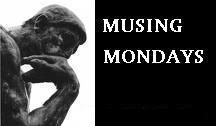 T
oday's
MUSING MONDAYS
post is about audio books. . .
What is your preferred method of listening to audio books? Where and when do you listen to them?
It has taken me a while to listen to audio books.
Now that I enjoy listening to them, I do most of listening during my daily commute to and from work.
On occasion I will listen to an audio book on my iPod while doing my Saturday morning cleaning.
What about you?