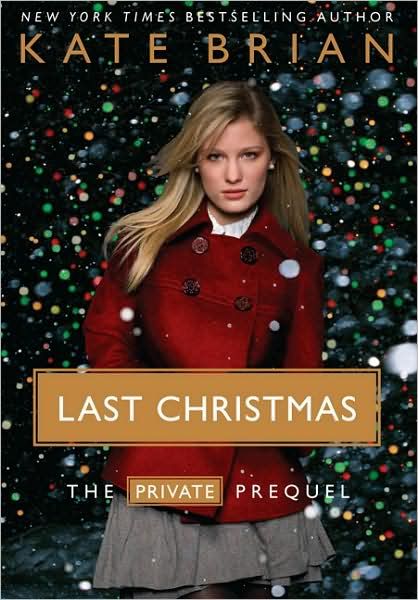 Book Synopsis:
Ariana Osgood has everything an Easton Academy girl could want: straight A's, the perfect boyfriend, and a coveted spot in exclusive Billings House. But on the first night of Christmas vacation, a blizzard traps her on campus with irresistible bad-boy Thomas Pearson. Alone. Instead of snuggling with her boyfriend next to a cozy fire in Vermont, she's huddling for warmth with Thomas in Ketlar House.
As the snow transforms Easton into a winter wonderland, Ariana finds herself falling for Thomas. But someone is watching their clandestine romance unfold, someone intent on turning their holiday weekend into a nightmare...
Last Christmas reveals the secret of what really happened before Private began -- and the shocking truth will change everything for fans of Kate Brian's bestselling series.

My review:
Before Reed Brennan started dating Thomas Pearson, Ariana had a relationship with him.
Last Christmas
is the story about their relationship and the aftermath that followed.
Easton Academy is preparing for winter break. Ariana is spending the holidays with her boyfriend's family in Vermont. She's fortunate to do so, however it just doesn't feel quite right. As she struggles with these feelings, her attraction towards bad boy, Thomas, grows. When she's forced to stay later on campus to finish an English paper, she learns Thomas has stayed as well. He taunts her about her "good girl" image and soon Ariana starts to behave in ways that both shock and excite her.
Last Christmas
provides more insight about Ariana and the events that led to Thomas's death. It's also a good companion to the
Privilege
series. I especially like Thomas and now wish Ms. Brian didn't kill his character so early in the
Private
series.
Ariana Osgood is a character readers will love to hate. She fears becoming like her mother and has to be in control at all times. It's shocking to read how extreme she becomes when her perfect world is threatened. She's delusional, mentally unstable, but so put together it's quite scary. She knows what she wants, how to get it and won't allow anything or anyone to stand in her way.
What I liked best about
Last Christmas
was the focus was primarily on Ariana and Noelle wasn't as powerful as she is in later books.
Last Christmas
allows readers an up close and personal look into Ariana's history and current thoughts. If you're a fan of the
Private
and
Privilege
series, you will not be disappointed with
Last Christmas
.
Book details:
Series: Private (Prequel)
ISBN-13: 978-1-4169-1369-6
Pages: 263
Year Published: 2008
Genre: YA Fiction
Date Finished: August 24
Rating: B