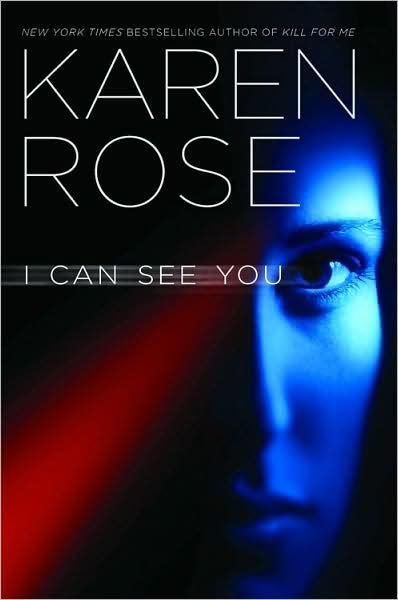 Question:
What do you have when you mix a female psychology graduate student attempting to move forward after a tragic event and a police officer who is a recovering alcoholic with a psychotic, deranged, serial killer?
Answer:
The makings for a great romantic thriller.
I Can See You
is the latest novel by Karen Rose. Eve Wilson was first introduced to readers in
Don't Tell
. It's several years later and Eve is trying to move forward with her life. As a young girl, she was the victim of horrific crime which left her face scarred and her emotions damaged. She has since had reconstructive surgery, reinvented herself and moved to Minneapolis to start fresh.
By day, Eve is a grad student and by night she's a bartender. She lives alone, has few friends and mainly keeps to herself. Still haunted from her attack, Eve believes it is best that she does not allow too many strangers into her inner circle.
Eve finds herself immersed into her grad coursework and her project. She is studying the relationship between the virtual world and the real world when she stumbles unto her next nightmare: her test subjects turn up dead from what appears to be suicide. The more Eve investigates, the more she realizes that someone has targeted these women. She's determined to find out why.
The police are stumped with "The Red Dress Killer". He/She leaves no clues and at first glance, these murders appear to be suicides. It's when Eve comes forth and informs the police what she knows, the police realize they have a sick, twisted murderer on their hands.
I Can See You
is romantic suspense at its best. The murderer is so deranged and determined to kill his/her victims, that at times I found myself squirming while reading. The killer first sedates the victims and then tortures them with their worst fears. The killer is also very calculating, always trying to "one-up" the police.
For Eve and Noah, the reader wants to see a happy ending for both. Both are scarred and live in isolation caused by their respective tragedies. Both feel the attraction, but fight hard against it. I liked that Ms. Rose took time for Noah and Eve to develop their feelings for each other. Both were afraid, however they were able to work through their fears in their own time.
I want to mention I did not read
Don't Tell
prior to reading
I Can See You
. I thought Ms. Rose provided enough of Eve's history for me to follow the story. I wouldn't mind going back to read
Don't Tell
. I really liked Eve's character and to read her back story will only add to knowing how hard she fought to regain her life.
I would like to see Eve and Noah return in a future novel. I'm curious to know more about their relationship and how it will progress. In addition, there are several secondary characters I wouldn't mind having a "where are they now?" update.
I highly recommend
I Can See You
. I want to thank Miriam Parker, Hachette Book Group USA, for the opportunity to review this book.
Book details:
ISBN-13: 978-0-446-53834-3
Pages: 480
Year Published: 2009
Genre: Romantic Suspense
Date Finished: August 7
Rating: A