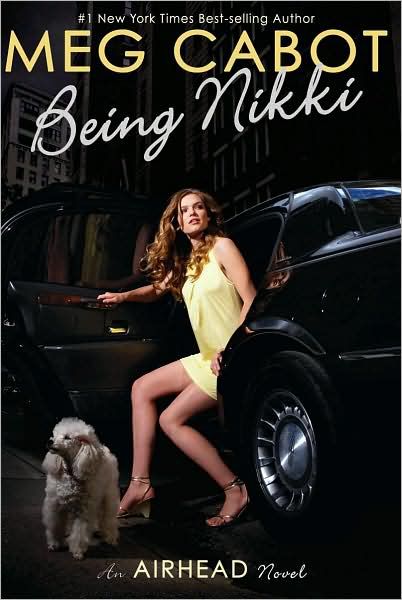 Title:
Being Nikki
Author:
Meg Cabot
Series:
Airhead #2
ISBN-10:
0-545-04056-6
Pages:
336
Year Published
: 2009
Genre:
YA Fiction (Series)
Date Finished:
June 28
From the dust jacket:
Things aren't pretty for Emerson Watts
.
Em was sure there couldn't be anything worse than being a brainiac in the body of a teenage supermodel.
But it turned out she was wrong.
It turns out she has a mother who's gone mysteriously missing, a brother who's shown up on her doorstep demanding answers, a former best friend who's intent on destroying Stark Enterprises, and a British heartthrob who's written a song about her that's topping the charts.
How can Em balance all that with school and runway shows — especially when she's got ex-boyfriends crawling out of the woodwork who want more than just a photo op, a sister who is headed to the high school cheerleading championships, and a company she represents that seems to be turning to the dark side. . .
Not to mention trying to convince the love of her life that models aren't really airheads after all. . .especially one model in particular.
But then, nobody said it was going to be easy being Nikki.
First sentences:
I'm cold. I'm freezing, actually.
Review:
Being Nikki
is the follow-up novel to
Airhead
. In
Airhead
, the readers learned how Emerson "Em" Watts became Nikki Howard. In
Being Nikki
, we learn more about Nikki's personal life.
The story centers around Em adjusting to Nikki's high-profile lifestyle while balancing her school work, family and trying to be friends with Christopher. When a mysterious stranger shows up at her Manhattan loft unexpectedly, the story takes off and the mystery begins.
I have to admit, I thought
Being Nikki
was much better than
Airhead
.
Airhead
was too repetitive for me. In
Being Nikki
, Ms. Cabot did a quick recap and immediately jumped into the storyline.
At times, the plot was predictable, however Ms. Cabot did end the book with a great cliff hanger. I'm looking forward to the third book in this series,
Runaway
.
Recommended to readers:
who love Ms. Cabot's young adult novels.