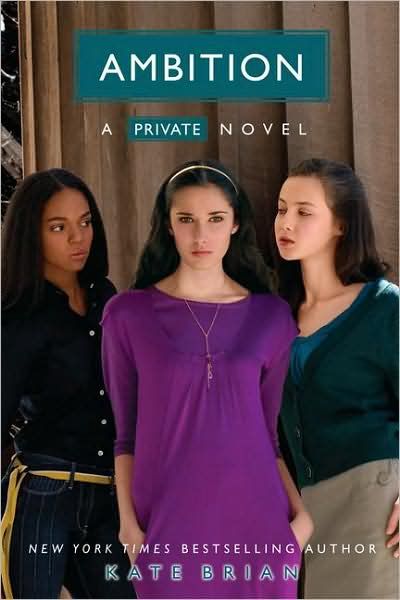 Title:
Ambition
Author:
Kate Brian
Series:
Private #7
ISBN-10:
1-4169-5882-7
Pages:
279
Year Published:
2008
Genre:
YA Fiction (Series)
Date Finished:
June 27
From the back cover:
The higher you climb, the farther you have to fall....
Reed Brennan knew being elected president of exclusive Billings Hall would change her life. What she didn't count on was being dumped by her boyfriend, Josh Hollis, or being held responsible for a fire that destroyed Easton Academy's oldest building.
And now the administration wants to shut Billings down. Forever.
As president, it's up to Reed to save Billings Hall. What better way to win over the head­master than to host a glam fund-raising event in New York City? Everyone needs a date, and the newly single Reed is the most eligible girl on campus. All of Easton's hottest boys are angling to take her out, and for once, Reed's biggest problem is which one to choose.
Reed has never felt so popular or powerful — until the police start asking questions about Cheyenne Martin's death. Excited party buzz quickly turns to whispered rumors and dark moods, and one thing becomes clear: There is someone who wants to see Billings, and Reed, go down. And they will do anything to make it happen.
First sentence:
I sat in the front row of folding chairs in the Great Room of Mitchell Hall and stared at the gray, unfeeling faces that hovered over the long table before me.
Ambition
is the seventh book in the
Private
series. Reed finds herself up against the head-master and the Easton alumnae after a fire destroys one of the buildings on campus. A fire that occurred while Reed and other students were sneaking off campus to attend the Legacy, an annual, exclusive event.
Reed comes up with the idea of a fund raiser in NYC and asks several of her Billings sisters to assist her with the planning. One of which is Noelle. As Reed coordinates meetings and appointments, it appears as though Noelle is trying to sabotage her.
Meanwhile, everyone on campus is shocked to learn that Cheyenne's suicide may have been a homicide instead. Another murder investigation on campus.
Just as things are starting to look up for Reed, the secret she's been hiding since the Legacy, is revealed. One night, one mistake can change Reed's life at Easton forever.
Like the previous novels in this series,
Ambition
is a quick read. While reading, I couldn't help but feel this novel is more of a "filler" to prepare the reader for
Revelation
, where Cheyenne's murderer is revealed. There are a lot of clues in this book and hints about what's to come. I'm looking forward to reading the next book soon.