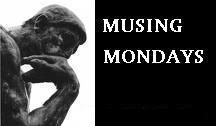 Today's MUSING MONDAYS post is about reading time…
Do you have a set reading time (before bed, perhaps)? Do you read more at night or during the day? Is there a day of the week, perhaps, that you set aside to catch up on reading?
I've made a commitment to myself to read every day. I try to read during my lunch hour if I can take the full hour. I also read 1-2 hours at night when I come home. I do like reading in bed, but lately I've been so tired, that when I get in bed to read, I'm asleep before I open my book! So instead I read sitting on my couch with my cats sleeping beside me.
I also listen to an audio book during my commute to and from work. This is the only time that I listen to audio books, so it takes me almost 3 weeks to finish one book.
Now that it's summer, my reading pattern has changed. I wake up early Saturday morning to run. Sometimes if I wake up before my alarm, I will read in bed until it's time for my run. After my run and shower, I read while eating breakfast. Now that my TV shows are on summer hiatus, I find myself reading about 3 hours each evening.
For the most part, I do most of my "catch up" reading on Sunday afternoons. Sundays are usually my lazy days. I come home from church, change clothes, eat breakfast and read outside on my deck.
What about you? What's your reading schedule?