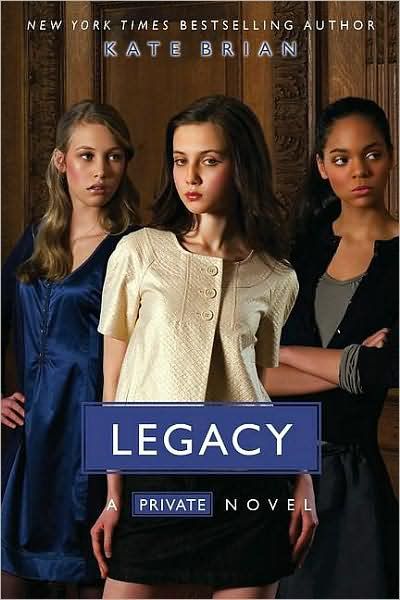 Title:
Legacy

Author:
Kate Brian
Series:
Private #6
ISBN-10:
1416950427
Pages:
243
Year Published:
2008
Genre:
YA Fiction
Date Finished:
June 2
First sentences:
Death. It wasn't supposed to happen this way.
Caution: This review contains spoilers!
Reed and the rest of the Billings Girls are back in
Legacy
, book six of the Private Series. They are mourning the loss of Cheyenne and trying to get answers to their questions surrounding her suicide. This is the second death on the Easton campus and the question is how can tragedy strike the sheltered and the elite?
Cheyenne was president of Billings House prior to her death. Now that the presidency is vacant, only one Billings Girl seems appropriate to replace her: Reed. The same day Reed accepts the nomination, a surprise awaits her. Noelle is back at Easton Academy.
Meanwhile, Halloween approaches and it's time for the Legacy. There's just one problem: the Easton students have been blackballed. And no one knows why. Now that Reed is president, it's up to her to get everyone invites. As much as she enjoys being president of Billings House, Reed also learns it comes with a price.