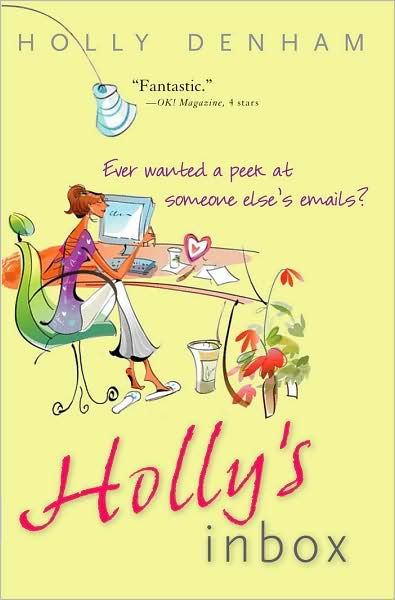 Title:
Holly's Inbox
Author:
Holly Denham
ISBN-10:
1-4022-1903-2
Pages:
665
Year Published:
2009
Genre:
Chick Lit
Date Finished:
June 21
From the back cover:
Dear Holly, Are you sure you know what you're getting into. . .?
It's Holly Denham's first day as a receptionist at a busy corporate bank, and frankly, it's obvious she can't quite keep up.
Take a peek at her email and you'll see why: what with her crazy friends, dysfunctional family, and gossipy co-workers, Holly's inbox is a daily source of drams. Laughter, friendship, and romantic interludes keep her going, until one day, Holly's secret past begins to catch up with her. . .
Written entirely in emails, this compulsively readable UK smash hit will keep you laughing and turning the pages all the way to its surprising and deeply satisfying ending.
When I discovered this book at Barnes & Noble, I immediately added it to my TBR List. I was quite surprised to learn my library owned a copy and was first on the wait list. I couldn't wait to begin reading Holly's e-mails.
I was looking forward to reading this as I read so many glowing reviews. I have to admit, around page 200 or so, I lost interest in Holly and her friends. I really wanted to know Holly's back-story with Toby. It took awhile for Holly to disclose to Trisha, her co-worker.
I do have to say, the secondary characters were quite interesting and added to the story. Around page 415 (the reader was able to peek inside Trisha's inbox), I found myself glued to the story and couldn't put it down.
Yes, it's a long book (665 pages of e-mails), but worth reading on a lazy afternoon. Even though I thought it was sluggish in the middle, I do hope there's a sequel in the works. I would like an update on Holly and her friends.
Want to take a peek into Holly's inbox? Click
here
.
Random thoughts:
Here's an
interview
with the creator of Holly's Inbox. It's quite surprising to learn the identity of the person behind the idea of the book.