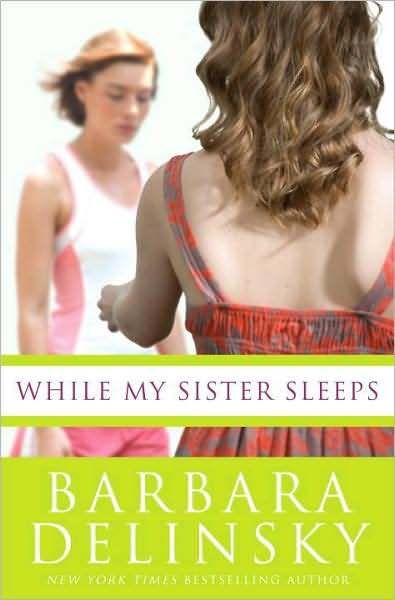 Title:
While My Sister Sleeps
Author:
Barbara Delinsky
ISBN-13:
9780385524926
Pages:
319
Year Published:
2009
Genre:
Fiction
Date Finished:
March 29
First sentence:
There were days when Molly Snow loved her sister, but this wasn't one.
My review:
Robin is the star athlete of the Snow family. All family activities revolve around her running. Molly is the younger sister, always feeling second best to Robin. Even as an adult, Molly continues to struggle living in Robin's shadow. It's not until Robin's last run, that the Snow family will finally face the reality of their dynamics.
One that fateful day, Molly was supposed to be with Robin during her long run. True to Robin's fashion, she changed her running plans at the last minute and expected Molly to accommodate her schedule. Molly, fed up with Robin being inconsiderate, decides to not help Robin and goes about her day as planned. Later that evening, Molly receives a call from the hospital stating Robin has been in an accident and she's needed at the hospital immediately. Molly blows off the phone call thinking Robin just had another running injury. (after all, she's had numerous injuries in the past) and takes her time arriving at the hospital. It's not until she speaks with the doctors, that she learns the severity of Robin's accident.
Meanwhile, their parents, Kathryn and Charlie Snow, are en route from a trip when Molly calls to tell them about the accident. Molly doesn't go into detail, but explains to her parents that they should come straight to the hospital. Molly's brother, Chris, is having marital problems. His wife, Erin, complains that he doesn't talk with her and is not an active participant in their marriage.
As the Snow family gathers at the hospital, they soon learn Robin's prognosis is grim. Each has his/her own way of grieving for Robin and what her void will mean to the family.
What effect do the characters in the book have on one another?
Each family member has a role that he/she plays well. Charlie is the quiet father, but still has a presence in the family. He keeps Kathryn grounded and is the voice of reason. Kathryn is the overbearing, hardworking wife who wants the best for her children. It comes off that she favors Robin and pushed her far and beyond to be the best runner, however Kathryn has her reasons for doing so. Chris, the middle child, is quiet and takes life as it comes. Initially, he appears to "go with the flow", but the reader soon learns he's very passive in his life. Finally, there's Molly, the youngest. Molly picks up Robin's slack. She never feels she's good enough in her mother's eyes and is expected to do whatever she can to make Robin's life easier.
As the author reveals more intimate details about the Snow family, the reader quickly begins to see things aren't as perfect as Kathryn portrays them to be. Molly discovers a family secret and confronts her parents. The reader learns more about Robin through her journal entries once this secret is revealed. My only complaint is I would have liked to have read more of her entries. So much of the family centered around Robin, so at this critical time, I would have wanted to hear more from her as she really is a silent character, with a profound presence.
My thoughts on the ending:
The ending doesn't come as a surprise. The book is mainly about the process that Snow family goes through in order to reach a decision about Robin's life. Throughout the process, each member will learn how his/her role in the family impacts the family as a whole.
Recommended for readers who like:
a good story about family dynamics. If you are a Barbara Delinisky fan, this novel will not disappoint. If you have never read a book by this author, this would be a good place to start.