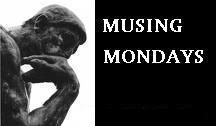 New Authors
What is your policy when it comes to new authors? Do you feel comfortable purchasing a book or do you prefer to borrow new authors from the library? How often do you 'try out' a new author?
I'm always in search of a new author.
When I'm browsing at a book store, I usually leave with 5-10 titles to add to my

TBR

list. I have purchased books by a new author without hesitation. In fact, I prefer it that way. Don't get me wrong, I definitely have my favorite authors and will buy their books too. It's just that

occasionally

I find myself looking for something new and different and I want to branch out to see what else is out there I haven't read yet.

Now that I'm trying to cut back on my book buying (due to lack of space and having way too many purchased, unread books on my shelves), when I discover a new author

, I check first to see if the library owns a copy
. If so, then I'll add my name to the

wait list

or put it on hold. If it's a book that has received raved reviews and it sounds "ownership worthy", then I will purchase it (even it the library owns a copy).