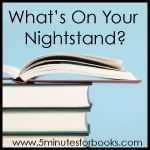 February was not a good reading month for me. I took on too much this month and as a result my reading suffered. Hopefully March will be a better month. Having said that, here are the books I want to read in the coming weeks:
In early March, I will attend a reading and book signing for Jodi Picoult which I'm very excited about. I went to her book signing last year for
Change of Heart
and she spoke about
Handle with Care
. Since then, I've been looking forward to reading this book.
I'm sure my reading list will change next month, which is fine. I just want to get back into my "reading groove" and tackle my TBR list.