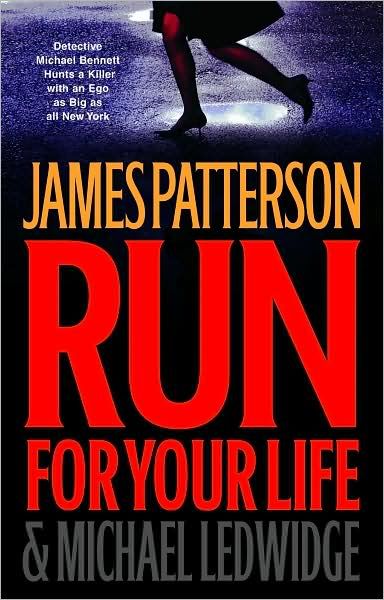 Title:
Run for Your Life
Authors:
James Patterson & Michael Ledwidge
Series:
Michael Bennett #2
ISBN-10:
0316018740
Pages:
373
Year Published:
2009
Genre:
Mystery/Suspense/Thriller
Date Finished:
February 22
From the dust jacket:
A calculating murderer who calls himself the Teacher is taking on New York City, slaughtering the powerful and the arrogant. Everyone is his potential student—from the loud-mouthed girl on her cell phone to the city's snooty upper crust. His message to them is clear: remember your manners or suffer the consequences! For some, it seems that the rich are finally getting what they deserve. For New York's elite, it is a call to terror.
There is only one man in the NYPD who can tackle such a high-profile case. Detective Michael Bennett. For anyone else, the pressure would be overwhelming, but Mike is ready to step up—taking care of his ten children has prepared him for the job. As the media frenzy escalates, all of Mike's children fall victim to virulent flu bug—almost as challenging an assignment for Bennett as tracking down the killer!
A secret pattern emerges in the Teacher's lessons, leaving Detective Bennett just a few precious hours to save New York from the greatest disaster in its history.
Run for Your Life
is the most speed-charged, adrenaline-packed novel ever from "the man who can't miss" (
Time
magazine).
First sentence:
Getting stuck on a bus in New York City, even under normal circumstances, is a lesson in frustration.
My review:
When I read
Step on a Crack
, the first novel featuring Michael Bennett, I did not know it was the start of a new series. Michael Bennett is a character that is easy to like. He's a dedicated police detective, but sometimes fantasizes about a career change. He's determined to make the streets of NYC safe. At the end of the day, Detective Bennett wants to be a great dad to his ten children. Having just lost his wife to cancer, Mike tries to pick up the pieces and move on while dealing with his grief. He stumbles and sometimes makes mistakes, but his family is his first priority.
While taking care of his sick children, he's also dealing with a serial killer: the Teacher. At first the string of murderers appear to be random, but soon Mike learns the victims were targeted. The question is why? As Mike races to find the answer to this question, little does he realize the Teacher just added a new name to his list.
True to Mr. Patterson's style,
Run for Your Life
is packed with suspense and twists and turns. The chapters are short, so it's easy to find yourself reading 50 pages before you know it.