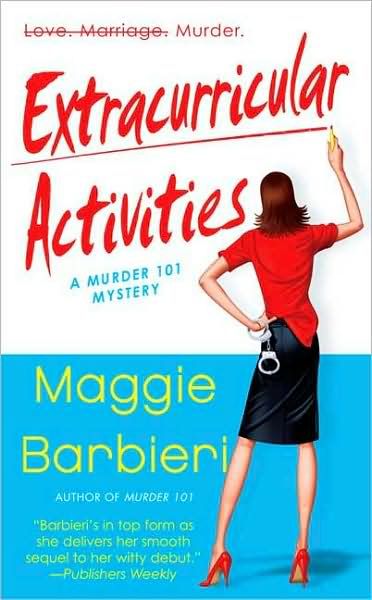 Title:
Extracurricular Activities
Author:
Maggie Barbieri
Series:
Alison Bergeron (Murder 101) #2
ISBN-10:
0312355386
Pages:
294
Year Published:
2007
Genre:
Cozy Mystery
Date Finished
: January 31
First sentence:
I have two best friends; one is a nymphomaniac and the other is a priest.
My review:
When we first met Alison Bergeron, she was the number one suspect in a college student's murder. Not only did Alison have a past with the victim's parents, her ex-husband had an affair with the student as well. Just clearing her name from one investigation, Alison soon finds herself involved with another murder. . . her ex-husband Ray. Ray's death has Peter Miceli's name written all over it, as his death was a signature Mob hit. As much as she despised Ray (after all he had numerous extra-martial affairs), Alison is stunned by his death and can't help but to play amateur sleuth once again.
Finding Ray's killer will also distract her from her on-again, off-again relationship with NYPD homicide detective, Bobby Crawford. Crawford has marital issues of his own: he's legally separated from his wife, however he failed to mention this at the start of his relationship with Alison. It's quite difficult for Alison to avoid Crawford because his partner is marrying Alison's best friend, Max, and he is best man while Alison is maid of honor. And not to mention, with all of Alison's snooping, she finds herself in situations that only a police officer can assist her with.
Overall, I enjoyed this book. Alison is an amateur sleuth with good sense. The plot at times is funny, but not over the top. The author provides enough twists and turns that will make the reader wonder who really is the killer. After the killer's identity is revealed, we learn why Ray was killed and how Alison is involved.
Alison's character is one the reader can relate to: she's hard working, trying to pick herself up after a bitter divorce while contemplating re-entering the dating scene. The reader will hope Bobby figures things out with his estranged wife before Alison moves on. The two definitely have chemistry and both deserve a second chance on love. If you're looking for a good cozy mystery, I recommend this series.