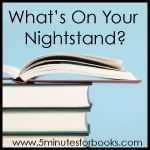 I recently discovered this monthly meme hosted by Jennifer of 5 Minutes for Books. Each month, she asks that we :

Write a post on your own blog (or leave us a comment here if you're blogless) and tell us a little about what is on your nightstand.
You could give a mini-review of a book that you're currently reading or just recently finished.
You can also use it as a goal-setting exercise. Which books do you plan to read this month.
As always, if you want to share the hows and whys of what you're reading or how it came to be on your nightstand, feel free. We love details!
Please link back to this page (or our main page) in your post so that your readers can find out more about the carnival.
January has been a month for reading series. I discovered the Pretty Little Liars series by Sara Shepard and read the first 5 books in two weeks. Currently, I am reading
Extracurricular Activities
by Maggie Barbieri and will follow up with
Quick Study
, which is the 3rd book in the Alison Bergeron (Murder 101) series.
Earlier in the month, I finished book 9 of the Princess Diaries series,
Princess Mia
, by Meg Cabot and added my name to the wait list for book 10 (the series finale)
Forever Princess
at my library. Over the weekend, I finally finished the Shopaholic series. . .which reminds me, I still need to write the review.
Last week I checked out
The Black Echo
and
The Black Ice
, books 1 and 2 of the Harry Bosch series by Michael Connelly. I may start this series next because it has been repeatedly recommended to me. Or I may decide to read a book that I own (I did sign up for the Read Your Own Books challenge and committed to 25 books). This particular stack includes
Good Luck
and
Mommy Tracked
by Whitney Gaskell,
LoveHampton
by Sherri Rifkin and
Fifteen Minutes of Shame
by Lisa Daily. I also committed to reading these books for the TBR Challenge.
We'll see what I decide to read in February. Who knows. . . my list may change by the end of the month. Anyway, what's on your nightstand?