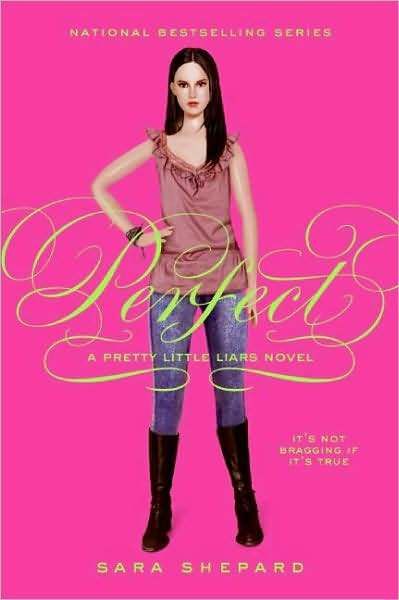 Title:
Perfect
Author:
Sara Shepard
Series:
Pretty Little Liars #3
ISBN-13:
9780060887384
Pages:
298
Year Published:
2007
Genre:
Young Adult (Mystery)
Date Finished:
January 18
From the back cover:
In Rosewood, Pennsylvania, four perfect-looking girls aren't nearly as perfect as they seem. Aria can't resist her forbidden ex. Hanna is on the verge of losing her BFF. Emily is freaking out over a simple kiss. And Spencer can't keep her hands off
anything
that belongs to her sister.
Lucky me.
I know these pretty little liars better than they know themselves. But it's hard keeping all of their secrets to myself. they better do as I say. . . or else! ~A
First sentence:
Have you ever had a friend turn on you?
My thoughts:
Hanna, Spencer, Aria and Emily are still dealing with Ali's murder investigation. Someone leaked a home video of the five girls together days before Ali went missing and the media can't stop playing it. Repeatedly watching the video makes each girl wonder if they really did know Ali at all. Spencer sums it up by saying:

"Being Ali's friend was great, but we had to make a lot of sacrifices. We went through a lot together, and some of it wasn't good. It was like, 'We go through all this for you, and you repay us by ditching us?'"

(p. 153)



As each girl struggles to deal with "A's" threats, "A" begins to up the ante. "A" is now sending texts and leaving messages to the people in their lives exposing their secrets. As each girl is on the verge of losing it all, one of them desperately tries to remember the night Ali went missing. Is it possible she's responsible for Ali's death? "A" makes one little mistake and one of the four friends realizes "A's" identity. Before she can tell the others, she's mysteriously involved in an accident. Will she survive to reveal "A's" identity? Or will "A" have to take drastic measures to fix his/her mistake?
Perfect
, so far, is my favorite in the series. The author does a great job of showing how each girl is struggling to maintain her sanity and keep her life intact while dealing with "A's" threats. I didn't see the end coming and I can't wait to start
Unbelievable
to see what happens next.