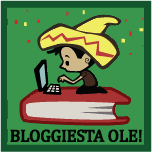 It's time! Do you plan to fiesta with us the weekend of March 30, 31 and April 1? Do you have things you'd like to do on your blog that you haven't managed to get to in forever? Do you want to do those things with lots of other bloggers from all over? Talk things over with them? Bounce ideas off them? Learn from them? Teach them too?

If so, you will not want to miss the latest installment of Bloggiesta! A blogathon created nearly three years ago by Natasha of Maw Books so we could do those very things listed above!
Bloggiesta is back! It's now hosted by Suey at
It's All About Books
and Danielle at
There's a Book
. I was thrilled when I saw their announcement. My blogging "to do" list long! Last year the lovely and talented Staci at
Blogging Bella Designs
created a new blog design for me which I absolutely LOVE! With the new design, new ideas came to mind and so began my "to do" list. Unfortunately other areas of my life didn't allow for me to focus on my blog as much as I would have liked, so eventually it fell to the bottom of my project list.
For Bloggiesta, I would like to tackle linking my reviews to my review database. That will probably take me the entire weekend! If I need a break, there are several review drafts I've started that I can finish. Also, I have ideas for blog posts that I need to get out my head, brainstorm and create templates.
There you have it. Other items may be added, but for now the above will be what I plan to accomplish. Are you planning to participate in Bloggiesta? To sign up or learn more information about Bloggiesta, visit
It's All About Books
.