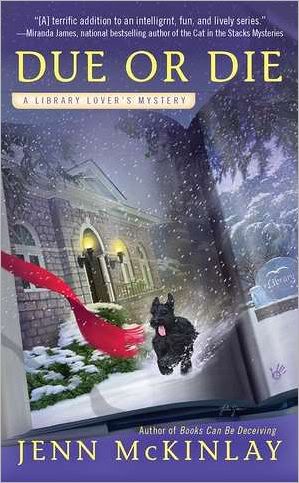 Due or Die
by Jenn McKinlay
Library Lover's Mystery Series, Book 2
It's election time for the Friends of the Library. The current president, Bill Sint is angry with Carrie Rushton for running against him. When Carrie wins the election, not all members are thrilled.
Now that she's President-Elect, Carrie is busier than ever. Unfortunately her husband Markus is of no help. When Markus is found murdered inside their home, Carrie becomes the police's number one suspect.
Due or Die
is the second installment in the new Library Lover's Mystery series. Although I am one to read a series in order, I did not find it necessary to read the first book,
Books Can Be Deceiving.
The author briefly wrote about events from that book, however she did not reveal spoilers and the reader is able to follow the current storyline.
Lindsey Norris once again takes center stage in the murder investigation. She knows Carrie would not murder her husband and is persistent to solve the crime. She enlists the help of Sully, Nancy, Beth and the other Crafternoon Club members. The clock is ticking as Carrie's arrest is inevitable.
The romance between Lindsey and Sully has blossomed. There's no denying these two have feelings for each other and both are finally ready to take the next step. Like the previous book, the romance did not overshadow the mystery. I like both Sully and Lindsey and feel the pace of their relationship is real.
I've come to enjoy the Library Lover's Mystery series and look forward to the third book,
Book, Line, and Sinker
(there is a preview provided in
Due or Die
). Cozy fans will not want to miss this series.
______________
Book Details:
Pub. Date: March 6, 2012
Publisher: The Berkley Publishing Group
Pages: 304
ISBN: 9780425246689
Genre: Cozy Mystery
Source: Print copy provided by publisher