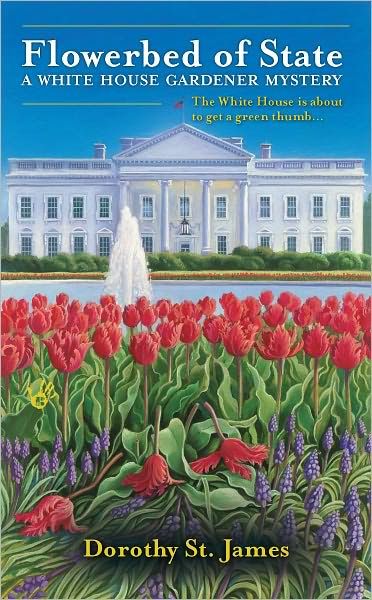 Flowerbed of State

by Dorothy St. James


White House Gardener Mystery, Book 1



Meet Casey. The newest member of the White House staff. She was personally selected by the First Lady due to her gardening practices, philosophy and vision. On the day Casey is to present her new plan to the First Lady and the Grounds Committee, she is attacked and discovers the body of a Treasury Department employee.

When someone close to her is hauled into the police station for questioning, Casey takes it upon herself to learn more about the victim and why she was killed. You see, Casey is a bit of a mystery buff and always has a mystery book with her. Channeling her inner Miss Marple, Casey is able to follow the clues to solve the mystery.



Flowerbed of State

is the first book in the brand new White House Gardener Mystery series. It centers around Casey Calhoun as she transitions from South Carolina to the District working for the White House. She's a likable and competent sleuth, always managing to stay one step ahead of the Secret Service.

I figured out the killer early in the story, however it did not prevent me from enjoying

Flowerbed of State

. St James provides a host of secondary characters that will keep the reader engaged, entertained, and interested in learning more about them. I'm looking forward to reading book two in the series. Cozy fans will enjoy this newest addition to the genre. Recommended.
______________
Book Details:
Pub. Date: May 3, 2011
Publisher: Berkley
Pages: 320
ISBN: 9780425240571
Genre: Cozy Mystery
Source: Publisher