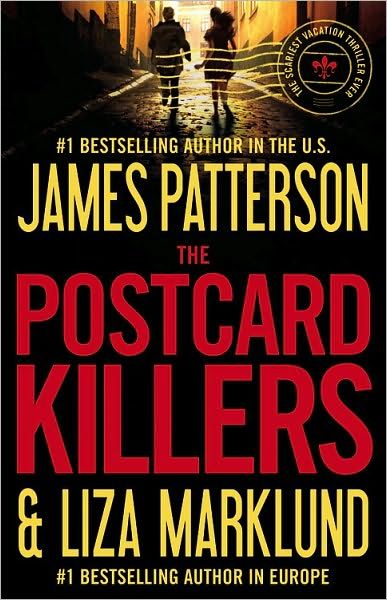 The Postcard Killers
by James Patterson & Liza Marklund
Narrated by Katherine Kellgren, Eric Singer and Reg Rogers
Paris is stunning in the summer

NYPD detective Jacob Kanon is on a tour of Europe's most gorgeous cities. But the sights aren't what draw him--he sees each museum, each cathedral, and each cafe through the eyes of his daughter's killer.

The killing is simply marvelous

Kanon's daughter, Kimmy, and her boyfriend were murdered while on vacation in Rome. Since then, young couples in Paris, Copenhagen, Frankfurt, and Stockholm have been found dead. Little connects the murders, other than a postcard to the local newspaper that precedes each new victim.

Wish you were here

Now Kanon teams up with the Swedish reporter, Dessie Larsson, who has just received a postcard in Stockholm--and they think they know where the next victims will be. With relentless logic and unstoppable action, The Postcard Killers may be James Patterson's most vivid and compelling thriller yet.
My thoughts:
Last summer when
The Postcard Killers
was first released I attempted to read it. Key word:
attempted
! For whatever reason, I could not finish the Prologue. Never a good sign. I put it down thinking it was just the mood I was in and didn't think much about it.
Last week I was at the library and noticed
The Postcard Killers
in the audio book section. I decided maybe listening to it would be a better option. I was able to move past the place where I first stopped and soon found myself engaged with the story.
While listening to the audio book, it took me awhile to warm up to the narrators. This was my first experience with multiple narrators and the switching back and forth didn't work with me initially. I found myself paying more attention to which narrator was speaking instead of the plot itself. As the plot started to develop, and true to Patterson's style of twists and turns, I was able to let it go and focus on the storyline.
I certainly wouldn't say
The Postcard Killers
is Patterson's "most compelling thriller" (the Alex Cross series, in my opinion, is more compelling), but it's worth a listen for Patterson's fans. Be warned, some scenes are graphic and the killers are dark and twisted.

Length:
7 hours, 30 minutes
Source:
Library
Audiobook Jukebox
.