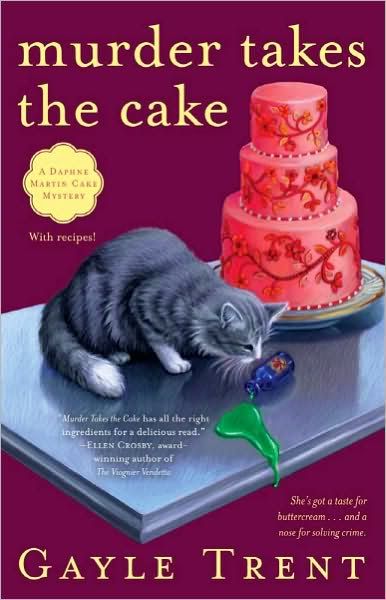 Murder Takes the Cake
by Gayle Trent
A Daphne Martin Cake Mystery, Book 1
Review:
At the age of 40, Daphne Martin is beginning a new chapter in her life. She has relocated from Tennessee to her Virgina hometown after divorcing her abusive husband Todd (who is currently serving time in prison). She's trying to make a fresh start by turning her passion for baking cakes into her own business: Daphne's Delectable Cakes.
Unfortunately for Daphne her first client, Yodel Watson, is ornery and the town's gossip. Ms. Watson is quite difficult (to put it mildly) and has Daphne running in circles with the changes for her cake orders. Naturally Daphne remains professional and tries to accommodate Yodel's unrealistic demands (she is her
first
client after all). When Daphne arrives at Yodel's home with her third cake, she unexpectedly finds herself involved in a murder investigation.
Rumor has it that Yodel was poisoned. And because Daphne found her dead, it is assumed that an ingredient in one of Daphne's cakes may have poisoned her. To prove her innocence and keep her business from being ruined before it even begins, Daphne must find Yodel's killer.
Murder Takes the Cake
is the first book in this cozy series. Although the story centers around Daphne's attempt to rebuild her life, the reader is also introduced to a host of secondary characters. Fans of cozy mysteries will enjoy this light, quick read.
Murder Takes the Cake
is a good start to a promising series. Recommended.
______________
Book Details:
Pub. Date: March 29, 2011 (Reissue)
Publisher: Gallery Books (A Division of Simon & Schuster)
Pages: 288
ISBN: 978-1-4516-0001-8
Genre: Cozy Mystery
Source: Publicist
I received a complimentary copy of this book from the publisher. Receiving a free copy did not influence my review in any way.