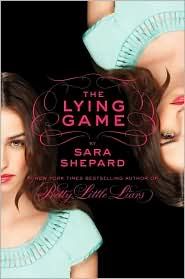 Life hasn't been good to Emma. Her mother abandons her at a young age causing her to be bounced around from foster home to foster home for most of her life. As graduation is around the corner, Emma finds herself living with Clarice and her slimy son Travis. When Clarice accuses her of stealing money (which she didn't steal, of course) she finds herself out of a home, but also learns of her long-lost twin sister Sutton. So begins Shepard's newest series
The Lying Games
.
Emma connects with Sutton via Facebook and arranges a face-to-face meeting. Feeling both nervous and excited to meet her twin, Emma sets out to Arizona. Quickly things turn out to not be as she imagined when Sutton is late to arrive. Things take an even weirder turn when Sutton's friends "kidnap" Emma, mistaking her for Sutton.
When Emma receives a threatening note saying Sutton has been murdered and she needs to be Sutton or else she's next, Emma is aware this family reunion has turned into a dangerous affair.
Having read the
Pretty Little Liars
series and absolutely loving it, I was excited to hear Shepard was working on a new series. I told myself to go into the story without comparing it to
PLL
, but after reading the first few chapters, I found this hard to do. (I don't want to explain further so as not to ruin the
PLL
series for anyone.)
I admit it took several chapters for me to finally settle in and get hooked by the story. Shepard does a great job by not confusing the reader with Emma's perception and Sutton's thoughts and memories. The more I read, I found myself getting swept into Sutton's life and trying to figure out who killed Sutton and why.
The reader slowly learns about Sutton's life and friends when Emma slips into her life. As Emma discovers more about Sutton (this girl is
NOT
nice), the potential suspects list continues to grow. By the end of the book, I was no closer to figuring out who killed Sutton. Shepard worked her magic by keeping the reader guessing with all the twists and turns the story took before reaching the last page.
Despite its slow start (for me, anyway), I'm definitely looking forward to the next book in the series
Never Have I Ever
. Fans of
PLL
will enjoy book one of this new series. Even if you haven't read
PLL
, pick it up anyway. Shepard is a young adult author not to be missed.
____________
Book details:
Genre: YA Mystery
Series: The Lying Game #1
Pub. Date: December 7, 2010
Pages: 307
Source: Library