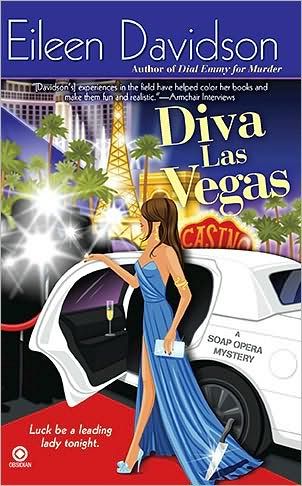 Sentence summary:
Alex and her detective boyfriend Jakes head to Vegas to solve a murder.
My review:
It's Halloween and Alex and her best friend George are invited to the Playboy Mansion. Shana, an acquaintance of Alex and former Playmate, asks Alex to the party because she has something important to discuss with her. Before the night is over, Shana is found dead in the haunted house.
Alex's boyfriend, detective Frank Jakes, is assigned to the case. Because Alex and George were the ones to discover Shana's body, Jakes agrees to allow Alex to assist on the case. Alex begins questioning her soap opera cast mates as Shana's ex-husband is also a star on the show. Her quick sleuthing leads them to Vegas.
Alex's soap is attending Daytime in the Desert, a convention held in Vegas for the fans. While Alex is attending the festivities, Jakes is discovering Shana's murder may be linked to another local girl's death. Alex and Jakes concluded her death may have something to do with her recent plastic surgery and all signs point to the doctor.

Lasting impression
:
I really like this series
and hope it continues. The story ended on a cliffhanger for Alex and I'm curious to know what happens next.
Reason for reading:
Read the first two in the series and liked them both.
Recommend:
Yes. Definitely read the books in order.
My rating:
3.5/5
_______________________
Book details:
Genre: Cozy Mystery
Series: A Soap Opera Mystery #3
Pub. Date: July 6, 2010
Pages: 293
Source: Library