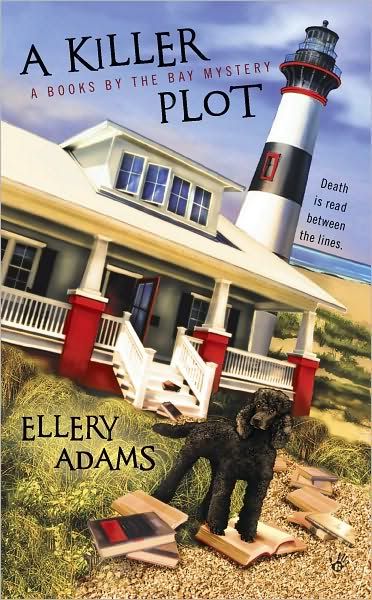 A Killer Plot
is the first in a brand new cozy series by Ellery Adams. Olivia Limoges is the main character with a haunting past. She returns to her hometown a wealthy woman and is often the center of the town's gossip. She comes across as aloof and uncaring. She's still wounded from her childhood and is learning how to break down her walls.
She's given the chance to join the Bayside Book Writers, a group of hopeful writers who meet regularly to critique their rough drafts, where she meets new friends. The offer comes from Camden Ford, who is currently writing a book about the high-powered Talbot family. When Camden is killed, Olivia feels a sense of loss for her new friend and takes it upon herself to find his killer.
A Killer Plot
is a fresh addition to the cozy genre. Olivia is a complex main character, while the secondary characters assist with moving her forward from the isolation she feels as a result of her past. There's a hint of a love interest for her, but it doesn't deflect from the mystery. Adams does a fantastic job with character development and description of Oyster Bay, that the reader can easily visualize each scene while reading. Some may question Olivia's relationship with her poodle Havilland and how she communicates with him. It's through this relationship that Olivia is the most vulnerable and is seen with emotion.
The storyline moves at a steady pace and I never felt it was rushed. I didn't solve the mystery and was quite surprised at the killer's identity and the motives for the killings. If you're a cozy fan and looking for a new series, I highly recommend
A Killer Plot
. The second book,
A Deadly Cliche
will be released in March 2011.
Book details:
Series: A Books by the Bay Mystery #1
ISBN: 978-0425235225
Pages: 320
Release Date: June 1, 2010
Genre: Cozy Mystery
Source: Crazy Book Tours
I received a copy of
A Killer Plot
from
Crazy Book Tours
. Receiving this free copy did not influence my review in any way.