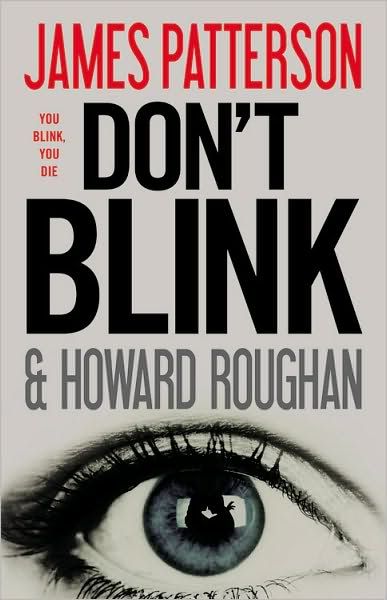 During the packed lunch hour at the busy Lombardo's restaurant in Manhattan, a lawyer is brutally murdered. His killer gets away after shooting and killing two police officers and causing pandemonium. Reporter Nick Daniels is sitting at the next table and witnesses the horrific killing. Little does Nick know, he will play an important part in solving this murder.
And so begins James Patterson's latest thriller
Don't Blink
. As with most of Patterson's novels, this one started out with a gruesome crime (trust me, you don't want to be eating while reading the prologue) and doesn't let up until the end. The chapters are short and the book can be read in a day.
The story is told primarily through Nick's eyes. There are a few chapters that Nick is not in, simply to help move the plot along. Nick is a likable character and doesn't appear to behave foolishly while trying to solve the case. At times, he doesn't make the best decisions, but as a reporter he feels it's necessary to follow a lead.
There's a predictable romance between Nick and his editor, Courtney. I felt the sexual tension was quite clear between the two of them, that I wasn't surprised with how their relationship ended. Their relationship, however did not take away from the story.
Every year, I look forward to Patterson's new releases.
Don't Blink
was no exception. Even though I read it in a matter of hours, I didn't love it. It was just an okay read. It's definitely not one that I would recommend to someone who has never read one of Patterson's mysteries. If however, you are a Patterson fan, I would say read it. If only to stay current with his novels. I admit, I prefer his series versus the stand-alone novels. Despite not enjoying
Don't Blink
as much as I'd hoped, I am still waiting for his next release. I can't help it! There's just something about reading a James Patterson book.
Book details:
ISBN-13: 978-0-316-03623-8
Pages: 384
Release Date: September 27, 2010
Genre: Mystery/Suspense
Source: Crazy Book Tours
I received a copy of
Don't Blink
from
Crazy Book Tours
. Receiving this free copy did not influence my review in any way.