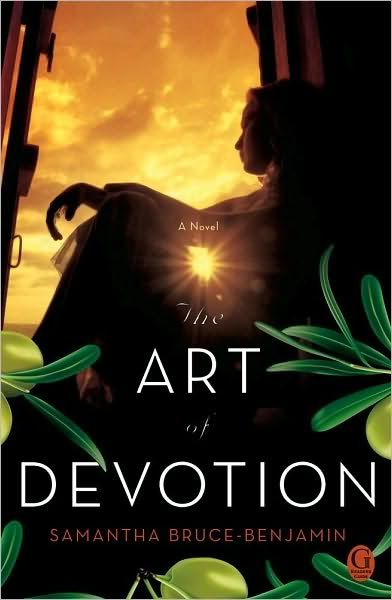 The Art of Devotion
is the debut novel of Ms. Bruce-Benjamin. The reader is introduced to Sophie and her children Adora and Sebastian. Their story spans across two decades and is filled with secrets, lies, betrayal and deceit.
The book is narrated in alternating voices: Sophie, Adora, Miranda (Genevieve's mother) and Genevieve. It begins with Genevieve's wedding preparations, the year is 1940. The reader is then transported back in time through a series of flashbacks that reveal the history of Sophie and her children; Adora and her charming husband, Oliver; and his lawyer and best friend James and his wife Miranda.
Oliver and Adora were the power "it" couple back in the day. They threw extravagant parties and everyone wanted to be included in their world. Their lives appeared to be abundant and perfect, however when the truth was revealed, all that remained were unhealed wounds, a trail of lies and a undeniable devotion between a brother and sister.
For me,
The Art of Devotion
was like watching a documentary of characters telling their perspectives about a family tragedy. At first glance, Adora seems to be controlling and self-centered. As she shares more of herself through her journal entries to Sebastian, she transforms into a broken and bruised woman who is not happy with the path her life is on.
Initially, I was drawn to Miranda. I quickly pitied her and felt Adora took advantage of her at every turn and Miranda had no choice but to accept it. By the end of the novel, my feelings for Miranda changed as I realized she was not the helpless victim, but in fact was more manipulative than Adora.
The Art of Devotion
is a dark book about the extremes people will go for the love of another, a sense of belonging and the fear of losing it all. It shows how lies, deceit and secrets can tear a family apart and turn family members into complete strangers.
The Art of Devotion
would make a good book selection as it would spark conversation centered around family dynamics, loss, and how death can impact a familial structure. A reader's guide and discussion questions are included.
Please note: Samantha Bruce-Benjamin will stop by to answer any questions or respond to your comments.
Book details:
ISBN-13: 978-1-4391-5394-9
Pages: 378
Year Published: 2010
Genre: Fiction
Format: Trade Paperback
Source: Publisher
The book was sent to me from the publisher for the author's blog tour. It has not influenced my review in any way.
Other blogs participating in this blog tour:
http://www.bookwormygirl.blogspot.com/
http://thebooktree.blogspot.com/
http://maryinhb.blogspot.com/
http://armsofasister.com/
http://booktumbling.com/
http://detweilermom.blogspot.com/
http://literarilyspeaking1.blogspot.com
http://busyjulieblog.blogspot.com/
http://thestuffyouneedtoknow.blogspot.com/
http://www.teresasreadingcorner.blogspot.com/
http://startingfresh-gaby317.blogspot.com/
http://frugalplus.com/
http://www.tarmyblogspot.blogspot.com/
http://martasmeanderings.blogspot.com/
http://www.eclecticbooklover.com
http://notquitesusiehomemaker.blogspot.com/
http://booksandneedlepoint.blogspot.com/
http://bookswithcoffee.wordpress.com/
http://www.jewelknits.blogspot.com/
http://thegirlfromtheghetto.wordpress.com/
http://justanothernewblog.blogspot.com/
http://simplystacie.net/
http://mustreadfaster.blogspot.com/
http://booksiesblog.blogspot.com/
http://reminderlist.blogspot.com/
http://www.tableforseven-julie.blogspot.com/
http://my-book-views.blogspot.com/
http://www.amusingreviews.blogspot.com/
http://thisbookforfree.com/
www.chickwithbooks.blogspot.com
http://takingtimeformommy.blogspot.com/
http://www.luckyrosiescreations.blogspot.com/
http://juniperrbreeeze.blogspot.com/
http://myfoolishwisdom.blogspot.com/
http://www.jeannesramblings.com
http://bridget3420.blogspot.com/
www.bellasnovella.com
http://cuzinlogic.wordpress.com/
http://www.rundpinne.com