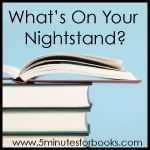 I didn't write a "What's On Your Nightstand?" post last month and wanted to make sure I did for May. Here's what I want to read:
Get Lucky - Katherine Center (currently reading)
Live to Tell - Wendy Corsi Staub
Never Look Away - Linwood Barclay
Think Twice - Lisa Scottoline
Just Like Me, Only Better - Carol Snow
A Soft Place to Land - Susan Rebecca White

What's on your nightstand?