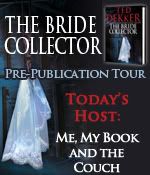 Book Summary:
FBI special agent Brad Raines is facing his most complex case yet. A Denver serial killer has murdered a string of beautiful young women, leaving a bridal veil at each scene, and he's picking up his pace. unable to crack the case, Raines appeals for help to a most unusual source: residents of the Center for Well-being and Intelligence, a private psychiatric institution for mentally ill people who are extraordinarily gifted.
It's there that he meets Paradise, a young woman who witnessed her father murder her family and barely escaped his hand. Diagnosed with schizophrenia, Paradise may also have an extrasensory gift: the ability to experience the final moments of a person's life when she touches the dead body.
In a desperate attempt to find the killer, Raines enlists paradise's help. Gradually he starts to question whether sanity resides outside the hospital walls. . .or inside.
As the serial killer picks up the pace—and volume—of his gruesome killings, the case becomes even more personal to Raines when his friend and colleague, a beautiful young forensic psychologist become the Bride Collector's fourth target. And she isn't the last—by far.
My thoughts:
I haven't had the opportunity to read a book written by Ted Dekker.

The Bride Collector

was definitely a great first-read for me. The reader is taken in by the story from page one and is swept away until the final page is turned.
What I enjoyed most about the book is the relationship and collaboration Raines had with the residents of the
Center for Well-being and Intelligence. It not only added to the suspense, but allowed for more character depth and exploration.
The author does a fantastic job of telling the story from different character's perspectives, which allows the reader to get inside the killer's mind and relate to the frustration and anger Raines feels after the women are found.
The reader is also granted permission to know the secrets the have haunted both Paradise and Raines for years.
If you're looking for a fast-paced thriller, then I recommend

The Bride Collector

. I will warn you though, the killing scenes are graphic, so read with ALL the lights on!!
To read more about the author, visit his
website
.
The Bride Collector

will be released on April 13, 2010.