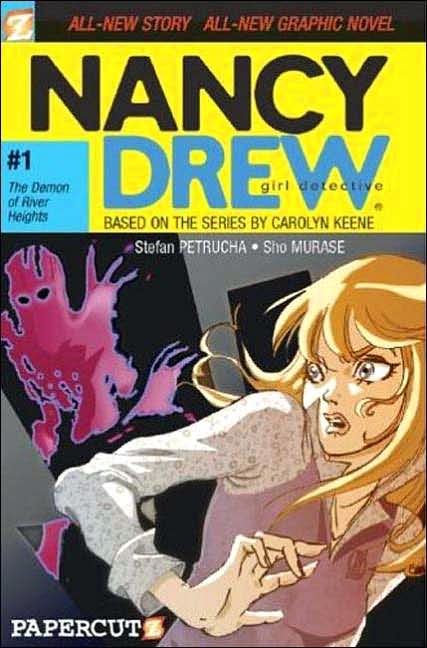 Book Synopsis:

Join Nancy Drew, along with Bess and George, as they search for missing student filmmakers and discover the deadly secret behind the local urban myth known as "The Demon of River Heights".

(From the back cover)


My thoughts:
I tend to stick with what I know. Especially with my reading. This year, I'm challenging myself to read more outside of my comfort zone. During my last visit to the library, I found myself feeling very nostalgic. I wandered into the children's section and headed for straight for Nancy Drew. Ahhh... Nancy Drew... where my love for series first began.
Imagine my surprise when I realized Nancy had branched out since I read her years (many years!) ago. So I thought why not allow a childhood favorite to introduce me to a new genre: graphic novels. I've only read one other graphic novel:
Wonder Woman: Love and Murder
by Jodi Picoult. (Honestly I only read it because Ms. Picoult wrote it and she's one of my favorite authors.) Not knowing what to expect with the Nancy Drew graphic novels, I decided to check out books one and two.
In
The Demon of River Heights
, Nancy is starring in a movie written by two college students, who are convinced there's a monster lurking in the woods of River Heights. After filming one night, Nancy, Bess and George invite the guys to meet them later at the local coffee shop. When they fail to appear, the girls return to the woods to look for them. Evidence is left behind that alert Nancy the boys may not be too far off about the monster. Can she shed some light on this myth and save the boys in time?
And the answer is: of course she can. After all, she
IS
Nancy Drew.
Ok, I have to admit, the mystery is very light. It's obvious who the "bad guy" is as soon as he's introduced to the reader. But, then I had to remember the target audience for this book. I definitely think young readers will love this series. The graphics are vivid, as the characters practically jump off the page! However, I did find the story a bit lacking and almost decided not to read book two. As I continued to flip through the pages, I noticed a sneak peek for
Writ in Stone
, the second installment. Curious, I read it and wouldn't you know it ended in a cliffhanger! Of course I HAD to know what happens next.
To be continued...
Book details:
Artist: Sho Murase
Series: Nancy Drew Graphic Novel #1
ISBN-13:978-1-59707-000-3
Pages: 84
Year Published: 2005
Genre: Graphic Novels (Children's)
Format: Paperback
Source: Library