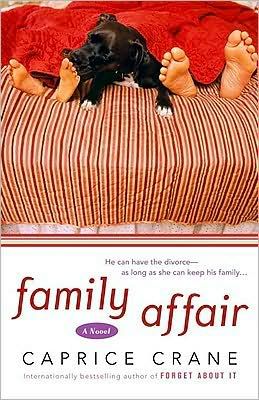 My synopsis
Brett and Layla have been together since high school. Shortly after Layla's mom passed away, Layla moved in with Brett and his family. It's now years later and Brett and Layla are married. While Layla begins planning their future, Brett questions his feelings for her. When did Layla stop being his wife and start being his
sister
?
My review
I'll be honest... sitting on my night stand (unread) are the author's two previous novels:
Stupid and Contagious
and
Forget About It
. When I heard about Ms. Crane's latest release
Family Affair
, I automatically added it to my TBR List. I thought it would be a light, fun read. Definitely a good book to curl up with on a cold winter day. Actually
Family Affair
ended up being more than that.
While reading
Family Affair
one question repeatedly came to mind: what makes a family? I'm sure if I asked ten people this question I would receive ten different answers. This is exactly what Layla struggles with. Layla's mother passed away when she was a teenager. Her dad left the family years before. So when she began dating Brett, it was natural that his family would welcome her as part of their family.
Initially I think Brett accepted this. As he grew older and left home, Layla always wanting to spend time with his family became a bit disturbing. So much so, that he began seeing her as his sister and not his wife. Doubting his love for her, he asks for a divorce. This decision drives a wedge between Brett and his family.
As the reader becomes a part of their antics to win the family's attention, Brett and Layla delve into their respective relationships with each family member and with each other. Narrated in alternating chapters,
Family Affair
is a refreshing read.
Book details:
ISBN-13: 978-0-553-38623-3
Pages: 348
Year Published: 2009
Genre: Fiction
Source: Library
Date Finished: January 1