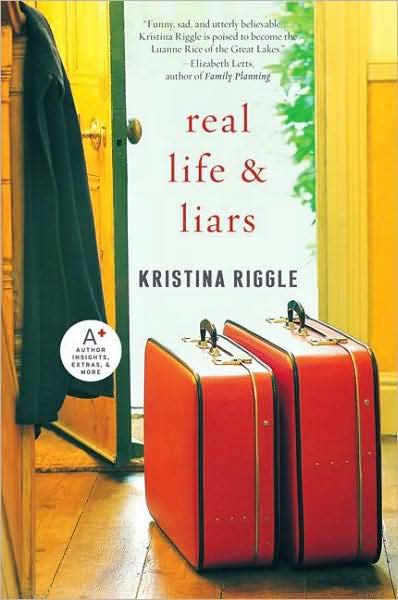 Book Synopsis:
Sometimes you find happiness where, and when, you least expect it.
For Mirabelle Zielinski's children, happiness always seems to be just out of reach. Her polished oldest daughter, Katya, clings to a stale marriage with a workaholic husband and three spoiled children. Her son, Ivan, so creative, is a down-in-the-dumps songwriter with the worst taste in women. And the "baby," impulsive Irina, who lives life on a whim, is now reluctantly pregnant and hitched to a man who is twice her age. On the weekend of their parents' anniversary party, lies will be revealed, hearts will be broken...but love will also be found. And the biggest shock may come from Mirabelle herself, because she has a secret that will change everything.
My thoughts:
I enjoy reading books about family dynamics. Each family member has his/her own role that allows the family to function. In
Real Life and Liars
, Ms. Riggle explores the depth of family relationships.
The story is told by the four main characters in alternating chapters. There's Mirabelle, the hippie, nonconformist mother; Katya, the oldest, materialistic daughter; Ivan, the insecure, middle son; and Irina, the youngest daughter without a sense of direction. The children come home for a weekend visit to celebrate their parents' wedding anniversary. As each child arrives, with his and her personal problems, Mira is also keeping a secret of her own. She's made her decision about her fate, and now she hopes her family can accept it.
Ms. Riggle did a fantastic job of writing each character and allowing him/her to have his/her own voice. Only Mira's point of view is written in first person and I thought that only added to the richness of the story. Readers will feel compassion for this family when Mira finally shares her secret with her children.
Real Life and Liars
is an honest look into what makes a family a family. The Zielinskis are far from perfect. They may not see eye to eye on things, however when it's time to come together, they show up ready to support each other. I liked the uniqueness of each child and how he/she played a significant part to the family dynamic. As I read each scene, I could vividly picture each character in my mind and thought this would make a great movie.
Real Life and Liars
is Ms. Riggle's debut novel which I highly recommend. The next time you're at a book store or your local library, pick it up. You won't be disappointed...it's that good!
Recommended for:
a reader who is in search of his/her next great read.
Book details:
ISBN-13: 978-0-06-170628-8
Pages: 327
Year Published: 2009
Genre: Fiction (Family relations)
Date Finished: August 29
Rating: A