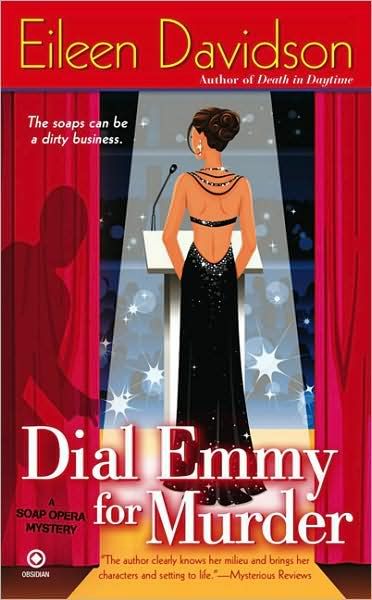 Readers were first introduced to Alexis Peterson in
Daytime in Death
, book one of A Soap Opera Mystery series. Alex is the number one suspect in the murder investigation of a head writer on The Yearning Tide. Determined to clear her name, she begins her own investigation and finds she's quite good at being an amateur sleuth.
In
Dial Emmy for Murder
, Alex has left her former soap, The Yearning Tide, and is now a cast member of The Bare and the Brazen. It's the night of the Daytime Emmy Awards and Alex is one of the presenters. When her co-star and fellow presenter, Jackson Masters, doesn't show, Alex is forced to present the award herself. Little does she know, she's about to walk into another murder investigation.
Dial Emmy for Murder
is a light, cozy mystery. The killer is evident as soon as he/she is introduced in the storyline, however this book is an enjoyable read. I have to admit, I was more interested in the blooming relationship between Alex and Detective Jakes than the murder investigation. There's also a sub-plot regarding Alex and her estranged husband. He embezzled money from his clients and stole Alex's retirement fund. Now he's back and is demanding to see their daughter.
If you're looking for a entertaining story, with a light mystery thrown in, then
Dial Emmy for Murder
is the answer. Book three of the series is in the works. Can't wait? There's a sneak peek included in
Dial Emmy for Murder
.
Book details:
Series: A Soap Opera Mystery #2
ISBN-13: 978-0-451-22825-3
Pages: 284
Year Published: 2009
Genre: Cozy Mystery
Date Finished: September 9