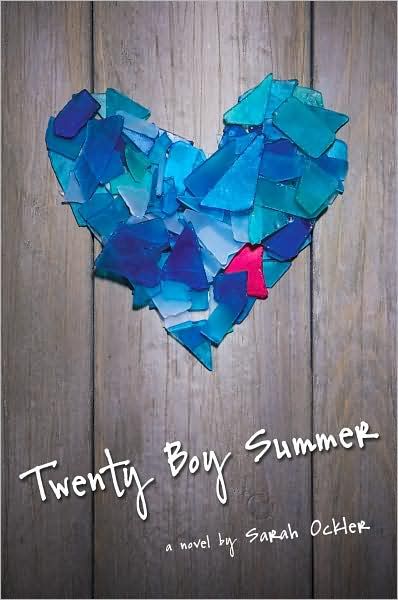 Book Synopsis:

"Don't worry, Anna. I'll tell her, okay? Just let me think about the best way to do it."
"Okay."
"Promise me? Promise you won't say anything?"
"Don't worry." I laughed. "It's our secret, right?"
According to her best friend Frankie, twenty days in Zanzibar Bay is the perfect opportunity to have a summer fling, and if they meet one boy ever day, there's a pretty good chance Anna will find her first summer romance. Anna lightheartedly agrees to the game, but there's something she hasn't told Frankie---she's already had that kind of romance, and it was with Frankie's older brother, Matt, just before his tragic death one year ago.
Beautifully written and emotionally honest, this is a debut novel that explores what it truly means to love someone and what it means to grieve, and ultimately, how to make the most of every single moment this world has to offer.
My thoughts:
I read great reviews about Ms. Ockler's
Twenty Boy Summer
. As a result, I had high expectations for this novel. I'm happy to say, it did not disappoint.
It's a year after Matt's death. Anna is joining her best friend and Matt's sister, Frankie, on her family vacation. Frankie wants this to be their Absolute Best Summer Ever (A.B.S.E.) and forms the plan of meeting twenty boys that summer.
Prior to Matt's death, Anna and Matt become more than friends. As they are establishing their new relationship, Matt makes Anna promise not to tell Frankie just yet. He wants to tell her in his own time. Anna agrees to this. Unfortunately Matt dies prior to telling Frankie and Anna is uncertain how to handle her promise to Matt.
Twenty Boy Summer
is about the process of grief and how one chooses to handle his/her grief. Frankie and Anna both love Matt in different ways and struggle to continue living with the void Matt has left in their lives. Anna knows Frankie is hurting, but is afraid to show Frankie her grief in order to protect her secret relationship with Matt. It's not until Frankie learns the truth about her brother and Anna, that both girls can openly discuss their loss.
Ms. Ockler did a fantastic job with Anna's friendship with Frankie. Anna is quiet, smart and cautious, while Frankie is out-going, boy crazy and a bit self-centered. Anna is very protective of Frankie as she watched her friend quietly withdraw after Matt's death and emerge as someone she doesn't know. When Frankie discloses to Anna what the loss of Matt has meant to her, Anna begins to see moving forward after someone has died is terrifying as one tries to not forget the person who has died while moving forward is also necessary in order to heal.
Readers will enjoy
Twenty Boy Summer
. I was immediately hooked and read it in a few hours. Ms. Ockler's debut is an emotional read. One that readers will not forget.
Book details:
ISBN-13: 978-0-316-05159-0
Pages: 290
Year Published:2009
Genre: YA Fiction
Date Finished: August 27
Rating: A-