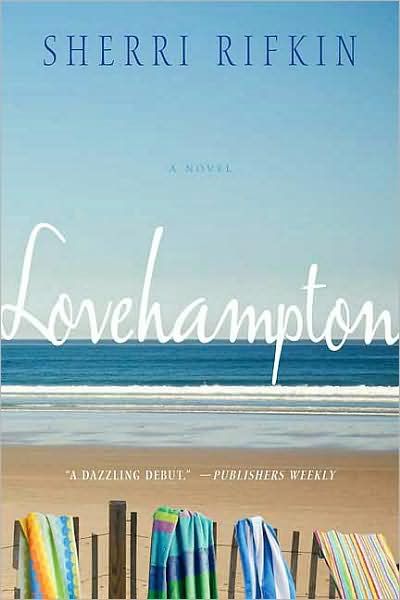 Book Synopsis:
After a recent breakup sent her into a self-imposed "personal hiatus," thirty-something New York TV-promo producer Tori Miller is determined to get a life. The fastest way? A
Hamptons
summer share house. She ditches her old look—thanks to a last-minute makeover on a reality show pilot—and over the next three months, the new-and-improved "Miller" becomes the wing woman to a glamorous new
BFF
, goes head-to-head with her house's prickly Resident Alpha Female, and is drawn into a web of secrets by a charming Brit. But soon she finds herself entangled
in one
too
many
complicated
romantic
situations—and the many
Hamptons
Unwritten
Rules
threaten
to implode her new, carefully cultivated social standing. Now the fabulous life Tori has might not be the one she wants, and she muse decide who she really is what she wants, and what she's willing to give up to get there. . .all by Labor Day.

My review:
Tori (aka "Miller" to her Hampton housemates) is waking up after a two-year depression caused by the breakup with her boyfriend. With the help of her best friends, Tori is made over, has started her own business, and thrown into a house share with strangers in the Hamptons. As the summer progresses, Tori comes out of her shell and begins dating, she can't help but wonder if "this new Tori" is the woman she truly wants to be.
LoveHampton
is a perfect way to spend a lazy summer afternoon. Readers immediately connect to Tori as she struggles to move forward with her life. Yes, at times, she doesn't make the best decisions, however when she falls, she's able to pick herself back up. Readers will cheer her on as she tries to navigate her way through life and continue to "drive her bus" despite where the road may lead her.
Although, her love choice is obvious, Tori cannot see it until it's almost too late. I didn't understand why she was with George (he didn't appear to be what she wanted in a boyfriend) and at times I was frustrated with how he treated her and that she allowed him to do so.
The secondary characters added depth to the storyline. There's Alice, Tori's married best friend, who only wants the best for her; Jimmy and Jerry, her employees and relationship advisors; Cassie, one of her housemates, who just may not be as perfect as she appears; Leah, the control-freak and the one Tori needs to watch out for; and finally Andrew, Michael and Jackson, the three male roommates.
All in all, I enjoyed reading
LoveHampton
. My only regret? It has been sitting on my bookshelf for over a year. I wish I had read it sooner.
Recommended for:
readers who enjoy reading a story about a woman moving forward after a terrible breakup.


Book details:
ISBN-13: 978-0-312-38021-2
Pages: 310
Year Published: 2008
Genre: Chick Lit
Date Finished: July 27
Rating: A-