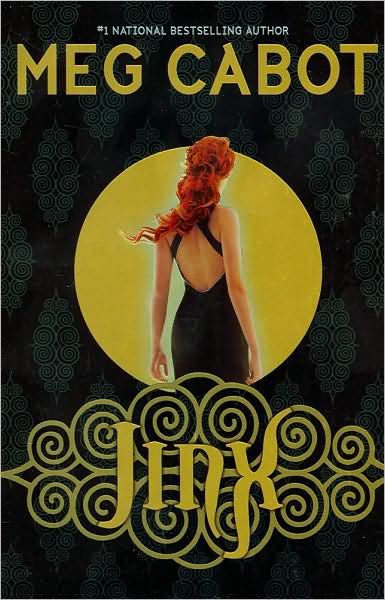 Book Synopsis:
It's not easy being Jinx.
Jean Honeychurch hates her boring name (not Jean Marie, or Jeanette, just . . . Jean). What's worse? Her all-too-appropriate nickname, Jinx. Misfortune seems to follow her everywhere she goes—even to New York City, where Jinx has moved to get away from the huge mess she caused in her small hometown. Her aunt and uncle welcome her to their Manhattan town house, but her beautiful cousin Tory isn't so thrilled. . . .
In fact, Tory is hiding a dangerous secret—one that could put them all in danger. Soon Jinx realizes it isn't just bad luck she's been running from . . . and that the curse she has lived under since the day she was born may be the only thing that can save her life.
My review:
Jean "Jinx" moves in with her aunt and uncle after an incident back home. Upon arrival, she learns her cousin Tory (now refers to be called Torrance) thinks she is a witch. Tory reminds Jean that their great-great-great-grandmother was also a practicing witch and stated that one of her descendants will also be a witch. Naturally Tory believes it's her, until Jean saves Zach's, Tory's neighbor and crush, life.
Having read most of Ms. Cabot's young adult novels last year, I was looking forward to reading
Jinx
. Unfortunately, this book didn't grab me as her previous novels did. The mystery behind Jean's move to live with her aunt is obvious as is the reason her family calls her Jinx.
What really stood out to me was how similar the characters are with the characters from
The Princess Diaries
series. For instance, Jean reminded me of Princess Mia; Zach was a good guy like Michael; Tory was mean like Lana. At one point, I actually started seeing the
Princess Diaries
characters instead of these main characters. From this, I thought the plot seemed "a bit familiar" and too formula-based.
Jean, the protagonist, came across as boring and naive. I often found myself wanting to shake her and say "Can't you see what's going on here?" It was so frustrating to see Tory repeatedly take advantage of her and for Jean to remain passive so she wouldn't hurt Tory's feelings.
Although
Jinx
is not a favorite of mine by Ms. Cabot, I still plan to read my way through her young adult collection.
Book details:
ISBN: 978-0-06-083766-2
Pages: 262
Year Published: 2007
Genre: YA Fiction
Date Finished: August 13
Rating: C-