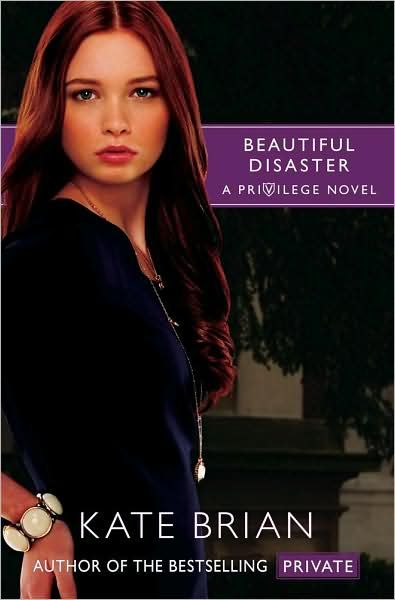 Book Synopsis:

She's Back....
After wasting away in a mental institution for a year and a half, Ariana Osgood is finally back where she belongs. She has a new look, a new name, and a new life -- all thanks to her former friend Briana Leigh Covington.
Now enrolled as a junior at the exclusive Atherton-Pryce boarding school just outside of D.C., Ariana sleeps in Frette sheets, flirts with the captain of the crew team, and gossips with the most beautiful girls on campus. She killed to get back her life of privilege. Just how far will she go to keep it?
From the author of the bestselling
Private
novels comes a series about the dark world of wealth, secrets, and privilege.

My review:
Ariana Osgood is settling in to Briana Leigh's life. She's now enrolled at a private school and is returning to the privileged life she's accustomed to. She was one of the popular girls at Easton Academy and she's determined to be the same at Atherton-Pryce Hall.
Things begin to quickly fall into place for Ariana, now known as "Ana". She's befriended the right clique and has tied up loose ends to her past. Or so she thinks. When her former crush and nemesis learns where she is, Ariana will stop at nothing to keep her new life.
Beautiful Disaster
is the second novel in the Privilege series - the spinoff from the Private series. Ariana is a character readers will love to hate. At times, you will feel sympathy for her until she concocts a new plan to do away with the competition. Ariana is ruthless! I have to say, while reading the Private novels, Ariana had a quiet presence, a character that is easy to forget. Which made the truth behind Thomas's death that more shocking.
In
Privilege
, readers see the REAL Ariana and it's quite frightening. In
Beautiful Disaster
, Ariana is portrayed as paranoid. Her confidence is slipping as her life begins to slip out of control. I have to say, I was exhausted while reading about Ariana's scheming to keep her past hidden!
Beautiful Disaster
ended on a cliff hanger, one that could possibly destroy Ariana for good. Fortunately readers won't have to wait long to see what happens next.
Perfect Mistake
, book three, will be released in October.
Book details:
Series: Privilege #2
ISBN-13: 978-1-4169-6760-6
Pages: 278
Year Published: 2009
Genre: YA Fiction (Series)
Date Finished: August 25
Rating: B