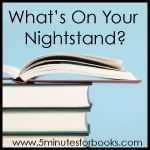 In July, I read the following from my night stand:
Revelation by Kate Brian
Paradise Lost by Kate Brian
Privilege by Kate Brian
The Beach House by Georgia Bockoven
The Late, Lamented Molly Marx
I'm currently reading City Dog by Alison Pace and plan to finish it by July 31st.
What's on my night stand for August:
Swimsuit by James Patterson
Killer by Sara Shepard
Twenty Boy Summer by Sarah Ockler
Last Christmas by Kate Brian

Red Hot Lies by Laura Caldwell
This list will probably change as I am at the top of the wait list for several books at my library. These books will also be on my night stand sometime in August:
The Penny Pinchers Club by Sarah Strohmeyer
The Actor and the Housewife by Shannon Hale
Hope in a Jar by Beth Harbison
The Neighbor by Lisa Gardner
Mating Rituals of the North American WASP by Laura Lipton

So, what's on your night stand?