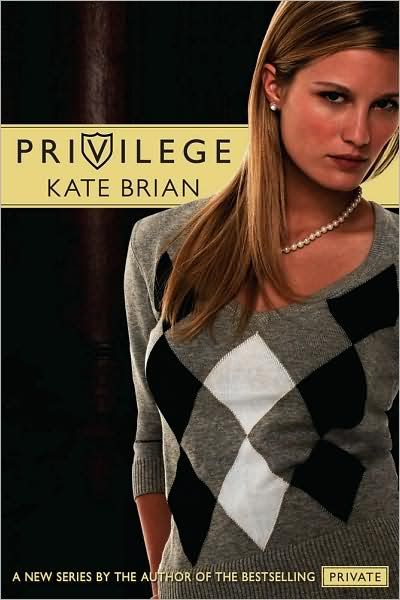 MOST GIRLS WOULD DIE FOR A LIFE OF PRIVILEGE.... SOME WOULD EVEN KILL FOR IT.
Ariana Osgood ruled exclusive Easton Academy — until she was arrested for murdering Thomas Pearson. She's spent the past two years at the Brenda T. Trumbull Correctional Facility for Women plotting her escape and is determined to get a second chance at the glamorous life she left behind. And Ariana will do anything to get her way....
My review:
Ariana Osgood is first introduced in the Privates series by Kate Brian. I strongly recommend you read the first four books (
Private
,
Invitation Only
,
Untouchable
and
Confessions
) prior to reading this book.
In the Private series, Ms. Brian hints that Ariana is a bit, well. . .unstable. In
Privilege
, she shows the reader how true this really is. (I find it hard to write this review without giving anything away!) When the reader is allowed to see Ariana for who she really is, well it's a bit scary.
Ariana wants to return to her life of privilege. The problem? She's locked up in a correctional facility. So, naturally, there's only one way for her to get what she wants. In order to do so, she must give up the life she knows in order to create the life that she thinks she's entitled to.
My only regret was that I didn't read
Last Christmas
, the prequel to the Private series, prior to reading
Privilege
. I believe certain characters and events are mentioned in this book that I was confused about while reading
Privilege
. Nevertheless, I was still able to follow the book. The ending had a shocking twist that left me wanting to immediately start reading
Beautiful Disaster
, book two. However, I will refrain until I read
Last Christmas
.
Recommended for:
readers how have read the Private series and want an update about Ariana.
Book details:
Series: Privilege #1
ISBN-10: 1416967591
Pages: 291
Year Published: 2008
Genre: YA Fiction (Series)
Date Finished: July 9
Rating: B+