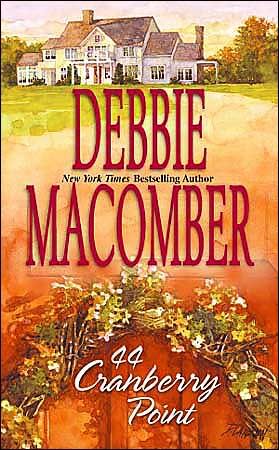 Title:

44 Cranberry Point
Author:
Debbie
Macomber
Series:
Cedar Cove #4
ISBN-10:
0778320731
Pages
: 377
Year Published:
2004
Genre:
Romance
Date Finished:
July 1
From the back cover
:
Peggy Beldon
Thyme and Tide B and B
44 Cranberry Point
Cedar Cove, Washington
Dear Reader,
I
love
living in Cedar Cove, but things haven't been the same since a man died in our B and B. Turns out his name was Max Russell, and Bob had known him briefly in Vietnam. We still don't have any idea why he came here and-most important of all-who killed him. Because it now appears that he was poisoned. I sure hope somebody figures it out soon!
Now that we're providing the
only
news in Cedar Cove these day, I heard that Jon Bowman and Maryellen Sherman are getting married. And Maryellen's mom, Grace, has more than her share of interested men! The question is: Which one is she going to choose? Olivia-I guess it's Olivia Griffin now-is back from her honeymoon, and
her
mother, Charlotte (who's in her mid-seventies at least), seems to have a man in her life, too. I'm not sure Olivia's too pleased. . .
There's lots of other gossip I could tell you. Come by for a cup of tea and one of my blueberry muffins and we'll talk.
Peggy
First sentence:
Peggy Beldon walked into her newly planted garden, taking real pleasure in the sights and smells that surrounded her.
Olivia Lockhart, Grace Sherman and their family and friends are back in this fourth installment of the Cedar Cove series.
44 Cranberry Point
picks up where
311 Pelican Court
ended. Bob and Peggy Beldon find themselves in the middle of a murder investigation and are shocked when they learn the killer's identity and the motive for the murder.
Ms. Macomber continues the stories of the popular characters: Olivia and her mother, Charlotte, Grace and her daughters, Jack Griffin and Cliff Harding. New characters are introduced as well. If you've read the previous novels in the series, you will feel right at home with
44 Cranberry Point
.
I do like with each book, more is revealed about each character. It's as though the reader is getting to know a new friend. At times the storyline is predictable, however it doesn't diminish the reading enjoyment. If you are interested in reading this series, I suggest reading them in order as each book flows from one to the other.