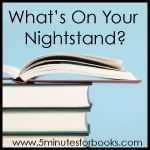 I only read three books from my nightstand in June:
Hollywood Car Wash by Lori Culwell

Airhead by Meg Cabot
Best Intentions by Emily Listfield
I'm currently reading Ambition by Kate Brian and plan to finish by June 30th. So, I'll make that four books read in June.
What's on my nightstand for July:
Revelation by Kate Brian
Paradise Lost by Kate Brian
Privilege by Kate Brian
City Dog by Alison Pace
The Department of Lost and Found by Allison Scotch Winn
The Beach House by Georgia Bockoven
The Late, Lamented Molly Marx
Red Hot Lies by Laura Caldwell

So, what's on your night stand?