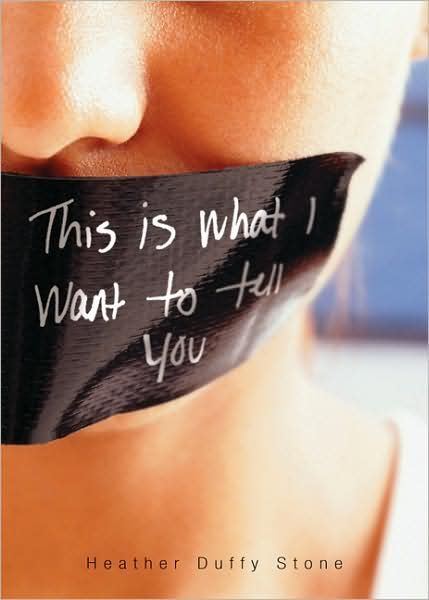 Title:
This Is What I Want to Tell You
Author:
Heather Duffy Stone
ISBN-13:
9780738714509
Pages:
233
Year Published:
2009
Genre:
Young Adult
Date Finished:
June 6
First sentence:
I can't tell you exactly what happened, but I can tell you part of it.
Noelle and Nadio are twins. Noelle and Keeley are best friends. Keeley spends the summer in Europe with her family. This story is what happens after Keeley returns.
Upon her return, Keeley knows something is different with Noelle. Their friendship is not smooth anymore. There's too much space between them and no words can be used to bring them together. Noelle finds a new friend, Jessica, while Keeley is away. It's because of this friendship she meets Parker.
Parker is Noelle's secret. She doesn't speak of him with Nadio and certainly not with Keeley. As her feelings for Parker intensifies, Nadio and Keeley are starting a new love themselves. Keeley is conflicted with keeping their relationship a secret from Noelle. She's also struggling with an event that occurred during the summer that can negatively impact her relationship with Nadio.
When Noelle discovers their relationship, she reacts in such a volatile way, that all parties will begin to question the closeness of their friendship.
I have to say, I wasn't sure if I liked Noelle or not. She kept her relationship with Parker a secret, but yet was angry with Nadio and Keeley for keeping their relationship a secret. It wasn't until I saw how scared she was of not having a chance to live, that I started to warm up to her.
"I wasn't scared of being left by him, I was scared of being left behind. Of Keely living a life I couldn't see. Of not getting to do the things other people got to do. Of not getting a chance."

(p. 199)



Nadio has an interesting role in the story. Not only is he the twin brother and the best friend's brother, he's the man of the house. Nadio's father left the family and Nadio isn't sure how to be. He questions his feelings, he isn't sure what to do and blames his father for this. He begins to write letters to his father as a way to figure out who he is as a son, a brother, a boyfriend and an individual. Nadio is conflicted with his new feelings for Keeley and his loyalty to his sister.
This Is What I Want to Tell You
illustrates the repercussions on a relationship that is strained by jealousy and secrets.