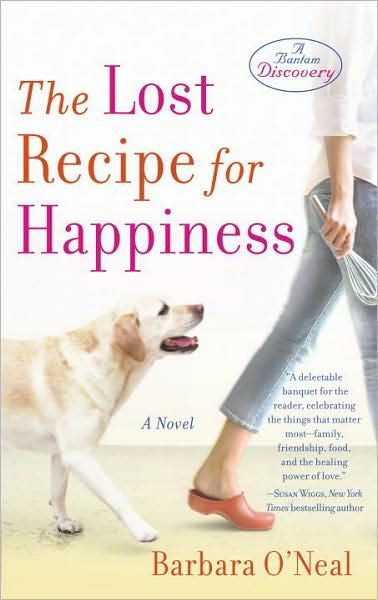 Title:
The Lost Recipe for Happiness
Author:
Barbara O'Neal
ISBN-13:
9780553385519
Pages:
450
Year Published:
2008
Genre:
Women's Fiction
Date Finished:
June 14
From the back cover:
It's the opportunity Elena Alvarez has been waiting for—the challenge of running her own kitchen in a world-class restaurant. Haunted by an accident of which she was the lone survivor, Elena knows better than anyone how to defy the odds. With her faithful dog, Alvin, and her grandmother's recipes, Elena arrives in Colorado to find a restaurant in as desperate need of a fresh start as she is—and a man whose passionate approach to food and life rivals her own. Owner Julian Liswood is a name many people know but a man few do. He's come to Aspen with a trouble teenage daughter and a dream of the kind of stability and love only a family can provide. But for Elena, old ghosts don't die quietly, yet a chance to find happiness at last is worth the risk.
First sentence:
Elena had been expecting Dmitri for more than an hour when he finally stormed through the back door of the Blue Turtle, the Vancouver restaurant where they both worked.
I have to admit when I first skimmed the book description, I thought the plot would be: girl breaks up with current boy, relocates to new city for a fresh start, meets new boy, not sure if she should get involved with new boy, ends up getting involved with new boy and they begin new relationship. Ok, so maybe
The Lost Recipe for Happiness
can be summed up that way. But honestly, it's so much more than that.
Elena Alvarez is a complicated character, but extremely likable. She's haunted by her past and cannot rid herself of her tragic accident. She's left not only with physical pain from the car accident, but immense survivor's guilt. She's the lone survivor of a car accident that killed her high school boyfriend and two sisters.
After the accident and a long period of physical therapy and healing, she left her hometown and explored her passion for cooking. Training in the best restaurants prepared her to become chef of her kitchen. While mastering the art of cooking, Elena simultaneously distanced herself from intimate relationships. Yes, she had plenty of boyfriends, however she never allowed them in, always keeping them at arm's reach. Of course this changes when she meets Julian.
Julian Liswood is a single father with several marriages under his belt. He's trying to raise his teenage daughter the best he can while maintaining his professional life. He's immediately smitten with Elena, but tries to keep their relationship purely professional. After all, he is her boss.
Ms. O'Neal did an excellent job bringing these characters to life. The chapters are told from both Elena's and Julian's perspectives. The secondary characters round out the story with issues of their own that only contribute to the depth of the plot.
If you're looking for something different, I suggest you pick up
The Lost Recipe for Happiness
. Elena is a character that you will root for and in the end you will walk away satisfied.