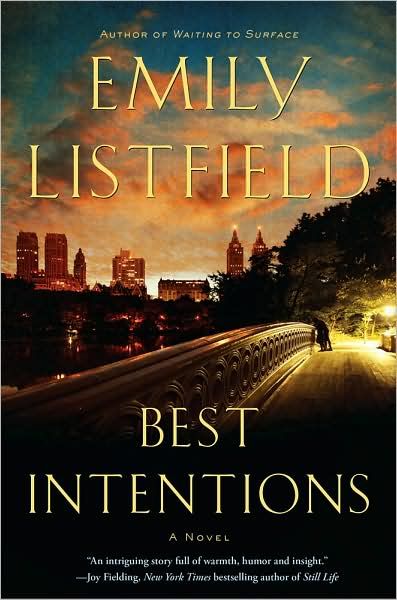 Title:
Best Intentions
Author:
Emily Listfield
ISBN-10:
1416576711
Pages:
338
Year Published:
2009
Genre:
Fiction
Date Finished:
June 6
First sentence:
I lie in bed watching the numbers on the digital alarm click in slow motion to 6:00a.m., 6:01.
Is it possible that the world you carefully constructed can shatter in an instant based on an assumption you made after hearing a voice message on your husband's cell phone? This is what Lisa Barkley begins to think after hearing the muffled message from an unknown woman to her husband.
"Everything I was certain—well, almost certain—of just twenty-four hours ago, job, husband, the intrinsic netting of my life, is suddenly flimsy, insubstantial, everything I have taken for granted now seems up for grabs."

(p. 49)



On the outside, Sam and Lisa are happily married with two daughters, Claire and Phoebe. Lisa holds a top position at a PR firm, while Sam is a journalist. They met and fell in love during college and married shortly after graduation. Their daughters attend private school on the Upper East Side.
Lisa never thought to question her marriage until she hears this voice message. She shares her concerns with her best friend, Deirdre. Deirdre does not share Lisa's suspicions and tells her it's probably nothing. Lisa tries to shrug it off, however she just cannot seem to let it go.
Meanwhile an old college friend comes to Manhattan to interview for a job and to celebrate his 40th birthday. Jack is Deirdre's former boyfriend and the four of them get together for a night of celebration and to reminisce. Jack and Deirdre entertain the idea of resuming their past love, only this time both have significant others. Jack is now married to Alice and Deirdre is in a relationship with Ben.
The four friends' reunion sets the stage for past secrets, betrayal and lies to be revealed. Can we truly leave our past in the past? If we try to correct past mistakes, are really doing more harm than good?
"The past is never really over. Our interpretation of it may shift like a kaleidoscope, it may inform us or lead us astray, it may bring comfort or delusion, and excuse to hate or a reason to love. Some of us race too quickly to try to escape it, some of us cling so tightly it blinds us to the present. but one way or another, it is always with us."

(p. 331)



Best Intentions
is a book that you can easily get lost in. I was captivated within the first chapter and began to wonder if Sam was truly having an affair. Without giving too much away, the novels twists and turns and I began to question each character's motive. At one point I truly felt for Lisa because I didn't know who was telling the truth and who was not. I have to admit, after finishing the book and finally knowing Sam's side of the story, I still had my doubts.
This is the first book I read by this author and it will not be the last.
Best Intentions
is one I highly recommend.