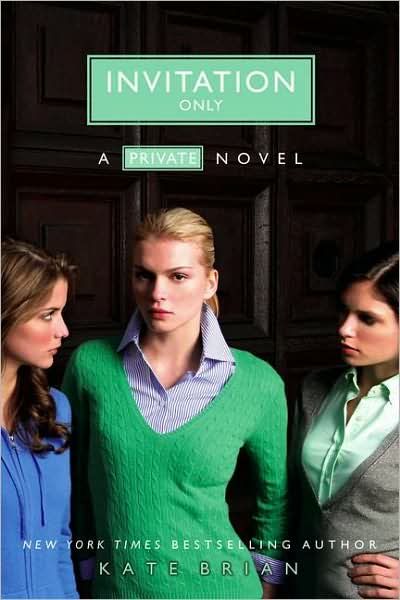 Title:
Invitation Only
Author
: Kate Brian
Series:
Private #2
ISBN-10
: 1416918744
Pages:
257
Year Published:
2006
Genre:
YA Fiction
Date Finished
: May 6
From the back cover:
Reed Brennan's future is looking as bright as the two-karat diamonds in her new housemates' ears. Being accepted to the most prestigious private boarding school in the country wasn't enough for Reed. She had to break every rule to do it, but she has accomplished the impossible:
Reed is a Billings Girl now.
And with her new status come respect, envy, and, most important, opportunity. Not to mention the parties. Unfortunately, at the next illicit party in the Easton campus woods, her roommate snaps some pictures of Reed in more than one compromising position. She uses the photos to blackmail Reed: Dig up dirt on the most powerful and popular Billings Girls or she will have Reed expelled.
And speaking of parties, the Legacy is coming up. It's the invitation-only Halloween party in NYC and it's rumored that Thomas -- Reed's MIA boyfriend -- will be making an appearance there. Too bad Reed isn't even close to invited.
Life as a Billings Girl is every bit as glamorous as Reed imagined. What she didn't bargain for is the tangled web of private lies these girls weave.
First sentence:
It was a cold night.
My thoughts:
Invitation Only
is the second book in the Private series. Reed is finally a Billings Girl. Unfortunately for her, she has to clean their rooms, make their beds and wash their windows as part of her initiation. She accepts these chores because the prize of being their friend is worth it to her.
At one of their parties, she meets Walt Whittaker and soon finds herself in a compromising position. Someone else has witnessed their encounter and begins to blackmail Reed. Reed has to learn the truth behind the expulsion of a former Billings Girl or face being expelled herself. Seeing no other choice, Reed begins spying on the other Billing Girls and learns some interesting facts about each one. It's not until Reed learns the truth, that she realizes what it entails to be a Billings Girl.
Meanwhile, her former boyfriend, Thomas Pearson, is missing. The police have been called to investigate his disappearance and Reed fears she will become a suspect. Thomas's friends are nonchalant about his disappearance and believe he will attend the Legacy, an invitation only party in NYC. But when Thomas doesn't show, the severity of his disappearance becomes apparent.
Invitation Only
begins where
Private
ended. I like that both books end with cliff hangers and immediately jumps right back into the story. I've found myself engrossed in the characters and wonder what will happen next.