Each Wednesday, Marcia from
The Printed Page
, hosts Cover Attraction. She writes:
"I'm a very visual person and love beautiful cover art. It doesn't necessarily mean I'll read the book but at least I might stop and take a peek instead of walking right on by.

"

I am a visual person as well and have often read books simply because I liked the cover. My first choice is: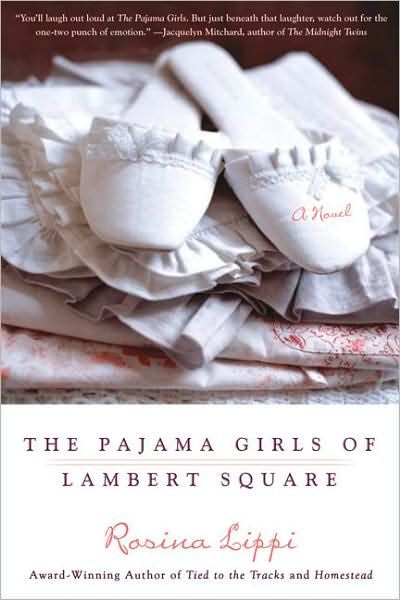 Title:
The Pajama Girls of Lambert Square
Author:
Rosina Lippi
Summary:
Julia Darrow runs a thriving business in South Carolina, has a houseful of foster dogs—and she wears designer pajamas all day, every day.
John Dodge makes a living moving around the country, fixing up small businesses on the brink of disaster. His newest venture takes him to South Carolina, where he's greeted by an odd sight: Julia Darrow, walking across Lambert Square, in pajamas.
Intrigued, Dodge asks Julia out to dinner only to be refused. The townsfolk warn him that Julia is an unsolvable mystery, but Dodge likes mysteries, and he's really good at fixing things…
(From Amazon.com)
When I first saw this cover, my immediate thought was curling up on my couch, under a blanket with this book. It looks so cozy, don't you think?