I recently began reading a new cozy mystery series by Roberta Isleib. It's An Advice Column Mystery series featuring Dr. Rebecca Butterman. Rebecca is a clinical psychologist and also writes and advice column for Bloom! She's currently divorced and toying with the idea of returning to the dating scene.
Here are mini-reviews of the first three books in this series: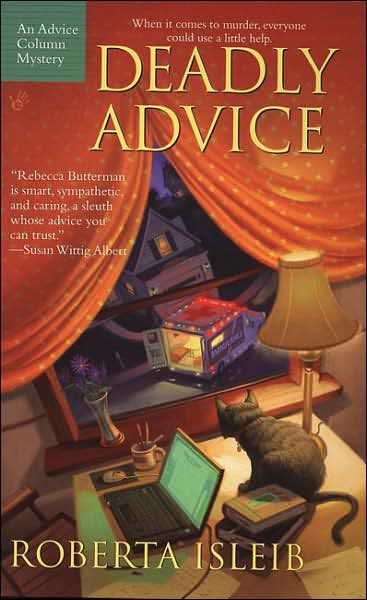 Title:
Deadly Advice
Author:
Roberta Isleib
Genre
: Cozy Mystery
Date Finished:
May 23
Summary:
Clinical psychologist Dr. Rebecca Butterman's neighbor was found dead in her condo. Apparently from a suicide. Her mother doesn't believe her daughter would kill herself and insists Rebecca look into her daughter's death. As Rebecca retraces Madeline's last steps, she realizes her neighbor had a secret life. Can Rebecca find out what really happened the night Madeline died before the killer stops her?
Title:
Preaching to the Corpse
Author:
Roberta Isleib
Genre
: Cozy Mystery
Date Finished:
May 24
Summary:
Dr. Rebecca Butterman receives a frantic phone call in the middle of the night from her pastor. One of the parishioners was murdered and he's in police custody. After being questioned and released by the police, Reverend Wesley asks Rebecca to fill the Lacy's empty position. Lacy was the chair of the search committee to hire a new assistant pastor. Rebecca agrees hoping this will lead to clues to solving Lacy's murder. Was Lacy killed over her choice for the new assistant pastor? It's up to Rebecca to find out before the killer silences her vote too.
Title:
Asking for Murder
Author:
Roberta Isleib
Genre
: Cozy Mystery
Date Finished:
May 30
Summary:
Dr. Rebecca Butterman arrives at her friend and colleague, Annabelle Hart's office for their lunch date. Rebecca immediately expects the worst when Annabelle isn't in her office. Her assumptions appear to be correct when she learns Annabelle has not shown for her morning therapy sessions. Rebecca immediately goes to Annabelle's home where she discovers Annabelle badly beaten. Who left Annabelle for dead? An angry client? Her new boyfriend? Or was it a burglary gone bad? Rebecca is determined to solve this mystery.
About the author:
Roberta Isleib is a clinical psychologist turned mystery writer. She's also the author of the Golf Lovers Mystery series featuring Cassie Burdette. Her website can be found
here
.
Recommended to:
Readers who love cozy mysteries. If you are a fan of the Alison Bergeron series (Murder 101) by Maggie Barbieri, then you will also enjoy this series.