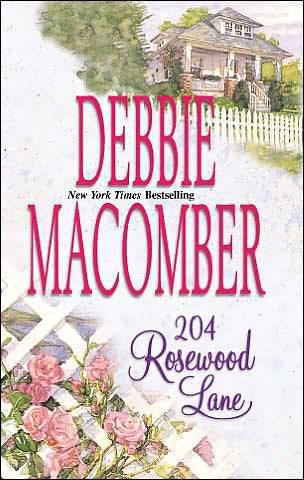 Title:
204 Rosewood Lane

Author:
Debbie Macomber
Series:
Cedar Cove #2
ISBN-10:
155166923
Pages
: 379
Year Published:
2002
Genre:
Romance
Date Finished:
May 21
Grace Sherman
204 Rosewood Lane
Cedar Cove, Washington
Dear Reader,
If you've been to Cedar Cove before we've probably met. You can usually, find me either at home or at the public library, where I work. I've lived in this town all my life and raised two daughters here. But my husband and I -- well, about six months ago, he disappeared. Just . . . disappeared. Where's Dan? Why did he go? Who's he with? Will I ever find out?

My hometown, my family and friends, bring me comfort during this difficult time. Comfort and a sense of shelter. I'm continually reminded that life can and does go on. For instance, everyone's been discussing weddings and babies lately. Justine -- the only daughter of my best friend, Olivia Lockhart -- impulsively got married a little while ago. My own daughter Kelly recently had, a baby. Unfortunately, she refuses to accept that Dan might not return to see his first grandchild. My older daughter, Maryellen, is more realistic. I think she's seeing a new man, but for some reason she won't tell me who it is.

Then there's Jack, who's been pursuing a romance with Olivia, and his son, Eric, and Eric's girlfriend, Shelly (I think she's pregnant), and Zach and Rosemary Cox, whose marriage is reputedly on the skids and . . . Well, just come on over and we'll talk!

Grace

My review: In the next installment of the Cedar Cove series, we are introduced to Rosie and Zach Cox. Zach is extremely frustrated that Rosie spends more time volunteering and barely has time to cook a meal. Dinners at their house are usually microwaved or take-out. Marital stress takes it toll and the couple decides to separate.


Meanwhile, Grace Sherman has divorced her husband, who disappeared in
16 Lighthouse Road
. She's convinced he left her and her daughters for another woman, so she decides it's time for her to move on as well. She develops a friendship with Cliff Harding and entertains the idea of moving their relationship forward.

Grace's daughter, Maryellen, has sworn off men as a result to a short-lived marriage. Maryellen feels men are not to be trusted and spends her time avoiding the dating scene and engrossed in her work. That is until she meets Jon.

Olivia Lockhart, her mother Charlotte, daughter Justine and boyfriend Jack are also back in this book.

204 Rosewood Lane

continues to interweave the lives of the residents of Cedar Cove. As more characters are introduced, readers cannot help but to feel as though they are catching up with old friends.