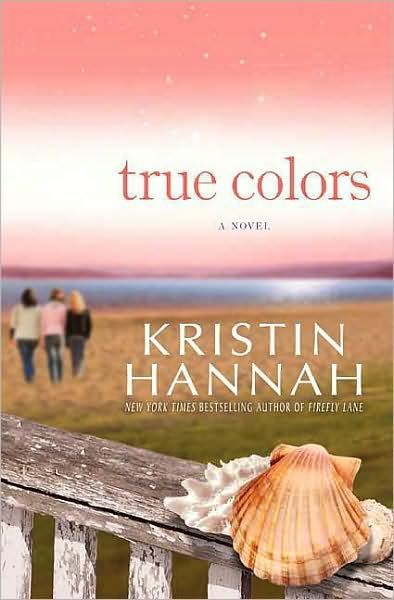 Title:
True Colors
Author:
Kristin Hannah
ISBN-13:
9780312364106
Pages:
393
Year Published:
2009
Genre:
Fiction
Date Finished:
April 5
From the dust jacket:
The Grey sisters have always been close. After their mother's death, the girls banded together, becoming best friends. Their stern, disapproving father cares less about his children than about his reputation. To Henry Grey, appearances are everything, and years later, he still demands that his daughters reflect his standing in the community.
Winona, the oldest, needs her father's approval most of all. An overweight bookworm who never felt at home on the sprawling horse ranch that has been in her family for three generations, she knows that she doesn't have the qualities her father values. Bu as the best lawyer in town, she's determined to someday find a way to prove her worth to him.
Aurora, the middle sister, is the family peacemaker. She brokers every dispute and tries to keep them all happy, even as she hides her own secret pain.
Vivi Ann is the undisputed star of the family. A stunningly beautiful dreamer with a heart as big as the ocean in front of her house, she is adored by all who know her. Everything comes easily for Vivi Ann, until a stranger comes to town. . .
In a matter of moments, everything will change. The Grey sisters will be pitted against one another in ways that none could have imagined. Loyalties will be tested and secrets revealed, and a terrible, shocking crime will shatter both their family and their beloved town.
My thoughts:
Overall, I thought this was a good read. It started out a bit slow, but when Dallas Raintree came to town, the story picked up quite a bit and I could not put it down. My only complaint is that I wanted Aurora's character to be developed more. I thought the author did a good job with Winona and Viva Ann, but I didn't feel as connected with Aurora as I did the other two.
The book begins in 1979 shortly after their mother's passing. It spans almost three decades and we see how her death still impacted them as adult women. Family loyalty and jealousy are two important themes in this book. Jealousy will cause Winona to do the unthinkable, while Vivi Ann is torn between following her heart and obeying her father's demands.
Without giving too much away, the reader quickly comes to understand that within the Grey family, buried secrets will always find a way to resurface. Silence is not always the answer, as the past has a way of repeating itself. Living one's life to always fit in, doesn't mean one is doing the right thing. Be true to yourself and know that sometimes in life you may just have to stand alone.