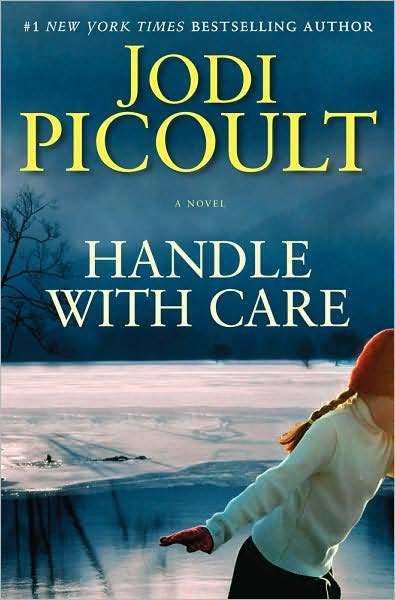 Title:
Handle with Care
Author:
Jodi Picoult
ISBN-10
: 0743296419
Pages
: 477
Year Published:
2009
Genre:
Fiction
Date Finished:
March 22
From the dust jacket:
Things break all the time. Day breaks, waves break, voices break. Promises break. Hearts break. Every expectant parent will tell you that they don't want a perfect baby, just a healthy one. Charlotte and Sean O'Keefe would have asked for a healthy baby, too, if they'd been give the choice. Instead, their lives are made up of sleepless nights, mounting bills, the pitying stares of "luckier" parents, and maybe worst of all, the what-ifs. What if their child had been born healthy? But it's all worth it because Willow is, well, funny as it seems, perfect. She's smart as a whip, on her way to being as pretty as her mother, kind, brave, and for a five-year-old an unexpectedly deep source of wisdom. Willow is Willow, in sickness and in health.
Everything changes, though, after a series of events forces Charlotte and her husband to confront the most serious what-ifs of all. What if Charlotte should have known earlier of Willow's illness? What if things could have been different? What if their beloved Willow had never been born? To do Willow justice, Charlotte must ask herself these questions and one more. What constitutes a valuable life?
First sentence:
Things break all the time.
My review:
When I first started reading
Handle with Care
, I immediately thought of
My Sister's Keeper
. The similarities between the two novels were hard to ignore. As I began to read more, I quickly forgot about
My Sister's Keeper
and found myself easily immersed in the story.
Charlotte and Sean O'Keefe were trying to have a baby. Just when they started to give up hope, Charlotte found out she was pregnant. Fortunately for Charlotte, her best friend Piper, is an OB-GYN. Despite their personal relationship, Piper agrees to be Charlotte's physician. This decision will later haunt Piper.
Charlotte gives birth to Willow, a beautiful girl who is diagnosed with Osteogenesis Imperfecta or OI. Sean and Charlotte devote all their time and attention to Willow to make sure she gets the proper care. When they decide to take a family vacation with their oldest daughter, Amelia, the world as they know it will forever be changed.
The events that occurred during their vacation will lead Charlotte down the path, which some may easily say is harsh, unnecessary and selfish. But
is
it? It's easy for one to be quick and judge Charlotte for what she decides to do, however the judgment is based on just a small portion of what you currently see. It's not based on Charlotte's life 24/7.
What Charlotte decides to do, to her, is best for Willow, while at the same time it destroys others' lives. While it may appear as though this was an easy decision for Charlotte to make, she struggles with it daily. While she's looking out for Willow's future, she's also sacrificing her marriage and the relationship she has with Amelia. She's also ruining her best friend's career, not to mention her self-worth.
True to Ms. Picoult's style,
Handle with Care
will touch upon ethical issues, leaving the reader thinking long after the story has ended.
My thoughts on the ending:
Early in the book, I knew how the story would end. After I read the last sentence, I wondered if Ms. Picoult did this intentionally. Having said that, the event that occurred at the end, was disappointing to me. All that happened, and
this
is how the story ended? It was a bit odd to me. I thought perhaps the ending could have remained the same, however the event that led up to the ending could have been different. I don't want to reveal too much, as I'm afraid I will spoil the ending!
Random thoughts:
Jodi Picoult quickly became a favorite author after I read
My Sister's Keeper
in 2007. Since that time, I've been reading her books, with the goal of reading them all (I have six more to read).
Nineteen Minutes
is my favorite of hers. It was such an emotional read. I've attended three of her book signings and encourage all of her devoted readers to
RUN
, not walk, if she's coming to your city. She's fun and energetic and very personable. To anyone who has never read any of her books, I recommend,
Nineteen Minutes
,
My Sister's Keeper
,
The Pact
,
Change of Heart
,
Salem Falls
and
A Perfect Match
.