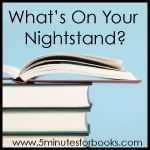 My reading has been erratic this year. For that reason alone, I decided to play it safe and only select three books from my night stand that I would like to read in April. I really have been a mood reader this year and I'm not sure why. Maybe I shouldn't question it; just accept it: it is what it is. Anyway, here are the books:
I have three books that I'm waiting for their release in late March/April:
Long Lost by Harlan Coben
Just Take My Heart by Mary Higgins Clark
8th Confession by James Patterson
I would like to read at least one of those as well. And knowing me, I'm sure there will be at least one or two books that I impulsively read.
Other books on my night stand are:
Shelter Me by Juliette Fay
The Lost Recipe for Happiness by Barbara O'Neal
Up to No Good by Carl Weber
The Black Echo by Michael Connelly

So, what's on your night stand?