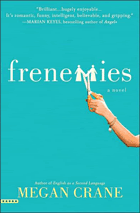 Title:
Frenemies
Author:
Megan Crane
Genre:
Chick Lit
Year Published:
2007
ISBN:
0446698555
Pages:
289
Finished:
December 7
Rating:
3 out of 5
From the back cover:

Gus Curtis approaches the big three-o with a plan to painlessly usher herself into official adulthood. Then she walks in on her practically perfect boyfriend Nate lip-locked with her supposed friend Helen (
completely
breaking the girlfriend cardinal rule), and her world starts to seem more like a teen drama than a mature, grown-up life. To make mattes worse, her two best friends are acting awfully strange-is everyone having a quarter-life crisis?

Trying to distract herself with tequila, Janis Joplin, and an extremely inadvisable hook-up, Gus begins to fear that her loft goals are just fantasies. And as she searches for how all her plans went wrong, she'll discover that sometimes you have to lose your friends to find them...and that your worst enemy-and best bud-just might be yourself.


This book has been sitting on my nightstand for awhile now. I reached my renewal limit at the library and ended up returning it unread. I put myself on the wait list again and was determined to finish it this time. And I did... today.

Frenemies

is an easy, quick read, however I have to say I was somewhat disappointed.
Gus is heart broken after catching her boyfriend kissing her friend, Helen. I can see how upsetting this can be. The problem I had with this scenario is I just didn't believe Gus and Nate were a serious couple and Gus and Helen were really friends. I didn't feel a connection with either relationship. Actually I didn't feel a connection between any of the friends. Henry, Nate's friend, and Gus had an interested relationship and I'll leave it at that to prevent writing any spoilers. This book is very predictable, however somewhere in the middle it got interesting again only to fall flat at the end.
Honestly, I didn't care too much for any of the characters. I found them to be extremely exhausting and wondered if that was the author's intent. Gus wanted everyone to feel sorry for her regarding the break-up and wanted Helen to been seen as the "crazy" one. Funny how one can quickly judge another but cannot see the same characteristic in herself. This quote pretty much sums it up:
"She took off across the room, and I was left to stand there and really bask in the full extent of my hypocrisy. I was amazed that you could become a hypocrite without even meaning to-

just like that

. That it was so simple. That you could look into someone else's life and see the things they were doing with such clarity, even as you ignored those same things when you did them yourself." (p. 156-157)
I have two more books to read by this author. They will remain on my TBR list. I plan to read both in the near future.